Host a fun party for the little fairies by hiring play zone on rent in Delhi which assures you happiness and enjoyment. Play zone for kids is a proper area provided with different colorful toys covered with a fence and mats. This creates a proper zone for children to enjoy their time at a boring party. This set up can be done anywhere. No matter if it is your home, garden, banquet or community hall this set up proves to provide fun to little children. Also, Birthday Planner Company is one-stop destination if you are in need of a play area for hire. In addition, Get play zone on rent for kids at very low cost. Our service includes Delhi, Gurgaon, Faridabad, Noida, Ghaziabad, Manesar, Karnal, and many more nearby cities.
What does the Play Zone area include?
If you rent play zone area from us in Delhi NCR, we will provide you the full installation of the setup including colorful fences. 
We will also provide you with neat and clean mats for children keeping in mind the hygiene & health.
Trainers & play area attendants will also be provided by us.
There will be many toys in the play zone for kids and we will provide you different options for toys to choose from.
Re-installation and packaging will also be provided by us.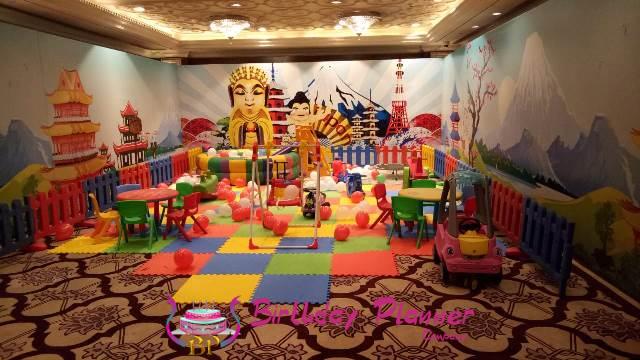 Choose your Play Zone area according to your convenience!
We definitely keep in mind and give importance to the layout and theme of the party. Therefore, we provide different options for the area of playzone for kids according to your space and layout.
Following are the different sizes available for Play Zone area on rent:
3m X 3m: This play area for hire is the smallest one and is sufficient for 8 to 10 kids.
4m X 4m: This area is sufficient for 10-15 kids.
5m X 5m: 15-20 kids can fit in this play area.
6m X 6m: Around 20-25 kids can fit in this playzone.
8m X 8m: 25-30 kids can fit in this play area.
10m X 10m: A total of 30 to 35 kids can fit in this play area. It is usually used for big party events.
12m X 12m: This is a large area where 35 to 45 kids can fit very easily.
15m X 15m: This is the largest area we provide where 45 to 65 kids can play very easily.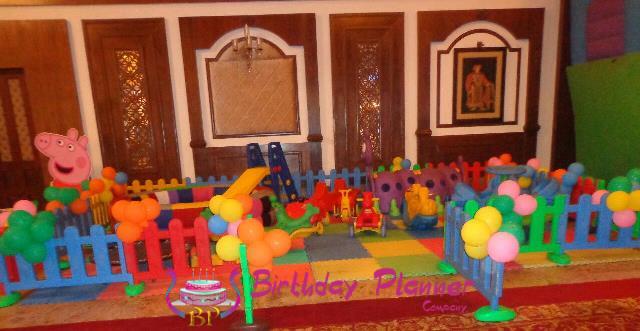 Play area for hire is designed keeping in mind the safety of children. So, they can play with ease and develop learning skills.
You do not need to worry about the arrangements when it comes to having kids play zone on rent in Delhi NCR. Furthermore, we are here to provide you a proper trainer/attendant to help the kids play without any difficulty.
Advantage of Play Zone On Rent for Children:
Having kids play zone on rent in Delhi NCR provides many benefits to the little growing children.
It will help your child to socialize and helps in making lots of friends.
It encourages the Social Media Interaction of the child which is very important.
Not only for fun, but this will encourage learning new skills.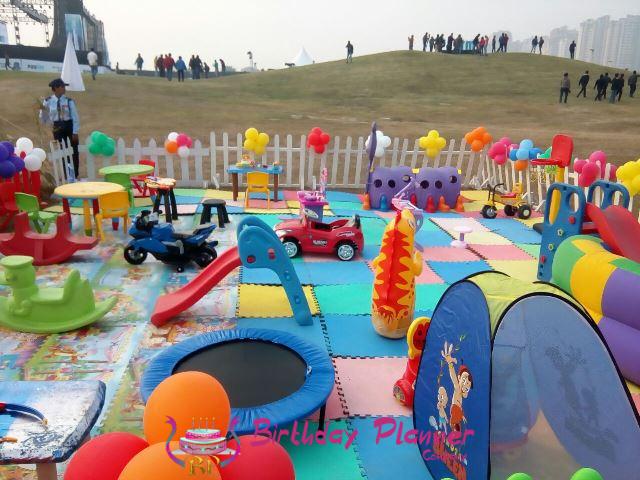 Conclusion
As there can be both the genders in the party, having the choice to choose from different toys, it becomes easy to engage children in fun as for girls. You can choose a different set of toys and vice versa.
So do not stress at all for your kid's party and feel free to give us a call or write to us when you want to organize a fun party!
Hire Us Now For Renting Play zone For Kids
Just call us for booking playzone for kids on rent in Delhi ncr, and we guarantee you, you will get best pricing in town. Additionally, we assure about quality and hygiene checks about play area for hire with us.