Batman Theme Party
Make The Event Twice Memorable With Batman Theme Party Photography
Batman theme party is very familiar theme. It is well known that photographs speak many words. When you see a party photograph, it speaks for itself. These become treasured items for many. Time fades ut not the memory. When you see these photos, you are instantly reminded of the good time you had.
The same is the case with Batman theme party photography. Of course, the photographs can be clicked in two manners. First option is you take the camera and shoot candid moments on your own. Second alternative produces glamorous photos. It involves hiring professional photographers. They are well versed with everything. Hence, they are capable of producing wonderful results.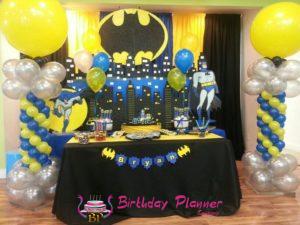 Apart from this, you are expected to take care of many other aspects as well. Here, you will get an opportunity to discover all these aspects. These are outlined below:
Opt For Sumptuous Food
Remember – it is no ordinary party. On the contrary it is one party which stands out from others. Therefore, to add an element of exclusivity, serve your guests Batman theme party food.
Needless to say, you organize such Batman theme party very rarely. Make efforts to make the day memorable. Order or buy pre-made foods from a store or restaurant.  Ideally, you ought to make it well in advance.
Some of the most popular items include "Poison Ivy" salad, Batwings (fried chicken), Penguin Nuggets (chicken nuggets), Joker Fries , to name a few.
Bring Out The Magic Of Gotham City With Rightful Invitation
Make sure to your Batman theme party invitation conveys the message correctly. The theme is Batman, right? Why not choose Batman's signature colors? Include yellow and black having some element of gray and blue as well. Inclusion of the colors is not the end. Thereafter, you ought to incorporate the theme appropriately. Just give importance to the wording in the invite.
Make The Invitation Extra Special For The Kids
More than often— people hardly take measures that will make invitation extra special. However, you cannot give it a miss if the party is meant for kids. You want your kid and his/her friends enjoy the most. Batman themed party requires the kids to come dressed up in their favorite hero's attire.
Just make sure to inform them about the dress code through the invite. Ideally, you ought to make a small note in the Batman theme party invitation cards. This will also enable their parents to take necessary steps.
Choose Popular Vintage And Handmade Items.
This kind of a party is a life-time experience. You can easily give the guests such an experience. Simply opt for vintage and handmade items. Some of these include items like Superhero Party Invitation, Superhero Invite, Printable Superhero Invitation, to name a few.
If you have ample time at your disposal, you can even send personalized version. This will give immense pleasure to recipients. They will be more than happy to attend the party.
Indulge With Batman Favors and Gifts
Children love receiving gifts. Therefore, by giving party favors and gift you can make their day eventful. Some of these are selling like hotcakes in the market. These include Batman Tote Bag, Batman Plastic Favor Cup, Batman Mini Disks Shooter Favors, Batman Rubber's Bracelet Favors, etc.