Football Dart game on rent in Delhi NCR
Just imagine the combination of the most two famous games! Football and Dart game together is just a deadly combination when it comes to organizing games in a party. This game is known by many names such as, Giant Inflatable Velcro Dart Board, Giant Inflatable Soccer Dart Game, Giant Inflatable Dart Game, Inflatable Giant Velcro Dart, Dart Football Game & Football Dart Game. Hire football dart game on rent in Delhi Ncr with us.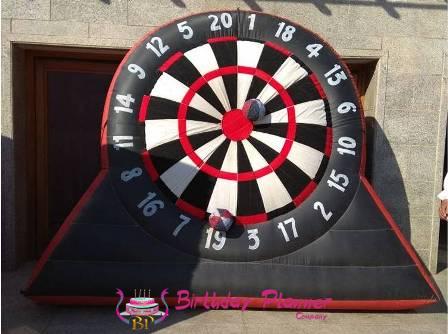 Football has gained its popularity over time and darting has always been an amazing game when it comes to simplicity. Football dart game is a perfect combination of a game that requires strength and intelligence. Hire Birthday Planner Company for football dart game on rent in Delhi ncr. We at Birthday Planner are top-most games and activity provider on rent in Delhi ncr for parties & events.
How can you play the Football Dart game?
This is a giant inflatable soccer dart game! Also, It works best when played outdoors. Furthermore, It is always better to play this football dart game in teams and have a competition.
Everyone of any age group loves this game. Additionally, it has a big fluffy dartboard with different scores around it.
The game is 6 ft in height and 5 ft in width and is pretty big. Also, We can play this game individually as well as in groups.
Birthday Planner provides trainer along with this game. Additionally, The game is not at all heavy and anyone can easily move it.
The player needs to hit the ball hard on the fluffy Placket. Therefore, person with the highest scores wins!
Are there different ways to play this game?
Yes, we can play football dart game in different ways with different tricks.
Our trainer will give you endless suggestions where you can make this game more fun and bring it to another level of excitement.
We can attach balloon in the middle of the dart and the person needs to hit the balloon with the football.
This dart football game can also be played by spinning the dart very fast and the person hitting the highest score wins.
Does this game offer additional benefits?
In this health-conscious world, it is important a game not just to be fun!
It is important to have health benefits associated with the game.
This game offers so many health benefits as it requires strength in the body.
Boys enjoy this football dart game more because they enjoy football more but girls too get attracted by the same because of the dart game attached to it.
This dart football game requires attention and aiming and allows children to grow mentally as well as physically.
This giant inflatable soccer dart game has health benefits attached to it and that is the specialty of it.
Conclusion
The deadly combination of aiming and strength becomes the center of attention at the party.
This football dart game is widely accepted and can also be included in school sports day.
This dart football game can become a part of any corporate event and can help employees to release their stress and enjoy to the fullest.
Children and adults love this giant inflatable soccer dart game and can attract even more people to play. Also, The game comes in attractive colors.
This football dart game is easily available for rent in Delhi NCR.
You can rent dart football game from us in Delhi, Gurgaon, Faridabad and Noida at affordable rates and have that amazing fun party!
Hire this game from us at affordable price. Therefore, Call +91-9999990921 or +91-8800690921 for booking as we are top-most games & activity provider on rent in Delhi ncr.
Top 5 Inflatable Games On Rent In Delhi Ncr
Jungle Bouncy On Rent In Delhi ncr
Mechanical Bull Ride Game On Rent In Delhi ncr
Football Dart Game On Rent In Delhi ncr
3 in 1 Inflatable Game On Rent In Delhi ncr
Inflatable Tic-Tac Game On Rent In Delhi Ncr
List Of Some Other Famous Games On Rent In Delhi Ncr For Events
Hammer Game On Rent In Delhi, Cricket Bowling Machine On Rent In Delhi, Air Hockey Table On Rent In Delhi, Trampoline On Rent In Delhi, Car Racing Game On Rent In Delhi, Punching Game On Rent In Delhi, Bouncy On Rent In Delhi, Biscope On Rent In Delhi, Play area On Rent In Delhi For Kids, Popcorn Machine On Rent In Delhi, Candy Floss On Rent In Delhi, Sweetcorn Machine On Rent In Delhi, Chocolate Fountain On Rent In Delhi