Add Delight To Campfire Camping Party With 3 Crucial Revelations
Parents are always more than happy to celebrate their kid's birthday party. After all, the child in question is no ordinary individual. He/she is their bundle of joy. The child means everything for them. They are ready to walk that extra mile.
For many such parents, Campfire camping party is the best alternative. They contend it offers them three advantages. Firstly, the entire event is all about super fun. Secondly, it gives them an ideal opportunity o be very creative. Thirdly, it is the most inexpensive kind of kid birthday party option.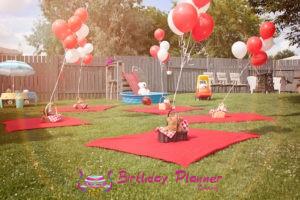 You too can host such a party. Make appropriate preparations in this regard. Know all special features it contains. If you wish to throw this birthday bash for your kid, you are reading the correct stuff. Here, you will get to know 3 revelations concerning it.
It Will Remind You Of Your Past
Remember – you too have spent your childhood. It is most likely you too might have attended such a party. Does the thought of the party remind you of fossils, dinosaurs, robots, bugs, and popsicles? If yes, there is nothing unusual about this. These parties offer children many activities to perform. Due to this reason they end up getting tremendous fun, entertainment and excitement.
Arrange For The Cake Beforehand
You want your child's birthday celebration to be unique and extraordinary, right? Make sure you make the arrangement for the cake beforehand. It will mean you will not miss out anything important. Remember – you do not have to procure expensive cake. Instead, you can make one on your ow.
For example, make a round cake. For convenience, you can opt for box cake mix. Children just love chocolate, right? Therefore, make sure to utilize one container of the chocolate frosting. Thereafter, do not forget to cover the cake completely.
Once done, char the marshmallows by burning an entire bag. Do not forget to add layers of the charred marshmallows in every layer. Lay down Pirouette cookies at the top of a cake. Lastly, don't forget to give a shape of pile of logs. You are all set you make your child's celebration twice memorable!
Create Perfect Ambiance With Rightful Camping Party Decorations
Every party, big or small, deserves some amount of decorations. Therefore, decorate the surroundings in browns and greens. Presence of animal tracks is a must. Just download some of these from the internet and get it printed. Cut the print outs and make sure to tape the same to walkways or driveway to the party.
Kids tend to forget when left in such an environment. Therefore, a sign or signage mechanism helps. Therefore, you ought to make print outs of different camping symbols. Use them to along the path and designated areas of the camping.
Allow your creative juice to flow. Make Tree Balloons with help of Brown Tissue Papers. Such tape them to give shape of Tree Trunks. Also, Place them on walls. Attach 3 different colors of green balloons to give an appearance of leaves.
Such wonderful decorations will do wonders to create the perfect ambiance. Once this happens, kids can be expected to what they are best at! Fun, fun and more fun!