4 Vital Facts About Car Theme Party
Car theme party is very much popular between kids. Kids just love cars. Give them a car toy and see for yourself. Don't be surprised to see them making sound with mouth when they play with it. Some kids have dozens of car toys. For them this is their most prized possession.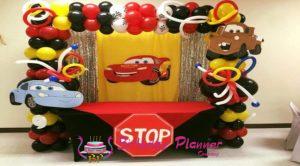 If you too have such a kid, you can bring lots of smiles in their face. Just take the pain of organizing a Car theme party. You may plan it for his/her coming birthday celebration. Organizing such an event does not need painstaking efforts. You just need to organize it in rightful manner. Make sure you do not forget important aspects.
For your convenience, some of these are enumerated below:
Opt For A Car Themed Cake
Birthdays are always special. This is more so in case of small children. They know this is the day when they can relish Car theme party cake. Just ensure you get the right one. For instance, you can have the cake in actual shape of car or car racing track. Also, Just put additional cars on this track.
You can be innovative in your approach. For example, make it beautiful by incorporating few things. Simply make the cake in a shape that resembles his/her age.
Decorate The Table In Car Theme
Remember – only getting the best cake won't yield great results. You need to decorate the cake table as well. Decorating it does not need technical know-how and expertise. For instance, arrange for a red Table Sheet. Thereafter, bring few old tyre from your garage. Place them around this table to give a shape of a car.
If you need some help in this regard, just refer to the internet. There are several websites that offer crucial information on car themed party decorations. Go through these and choose a suitable option.
When it is all about celebration, your decoration ought to include balloons. Keep in mind to choose them in correct color combination. As mentioned above, you are trying to make a car track, right? Therefore, why not opt for silver and black colored balloons?
Preserve The Fun And Thrill
Needless to say, when a group of kids are together, you will witness wild celebration. They don't like being formal. For them such opportunities come very rare. Therefore, they don't mind in having entertainment and thrill. How they achieve this objective is solely up to them.
If you wish to preserve such memories, there is no better option than Car theme party videography. There is an added advantage of taking this action. Everyone knows kids grow fast. With time memory does fade. However, presence of such videos brings back lost memories.
Don't Miss The Party Favors
It is better you don't forget the Car theme party favors. Gift the young racers something interesting. In the same way, it ought to compliment the theme. Try this alternative. Buy a lot of items that associates with car race theme. Pack them altogether and gift it. These items can be Cars Themed Candle-Set (Multicolour ), Birthday Decoration Set , Disney Cars Themed Black Red, Disney Cars Themed Hats, to name a few.