Surprise your Baby Girl with the Best Frozen Theme Party
Frozen Theme Party Planner, Decoration, Food ideas, Cake, Return Gifts, Supplies, games For Kids Birthday Organizer in Delhi, Faridabad, Noida, Gurgaon- Fairy tales hold a special place in the hearts of girls. Especially in the case of little girls who love every inch of experiencing a fairy tale in real life. And this is what makes a fairy tale theme party the best pick for celebrating her birthday.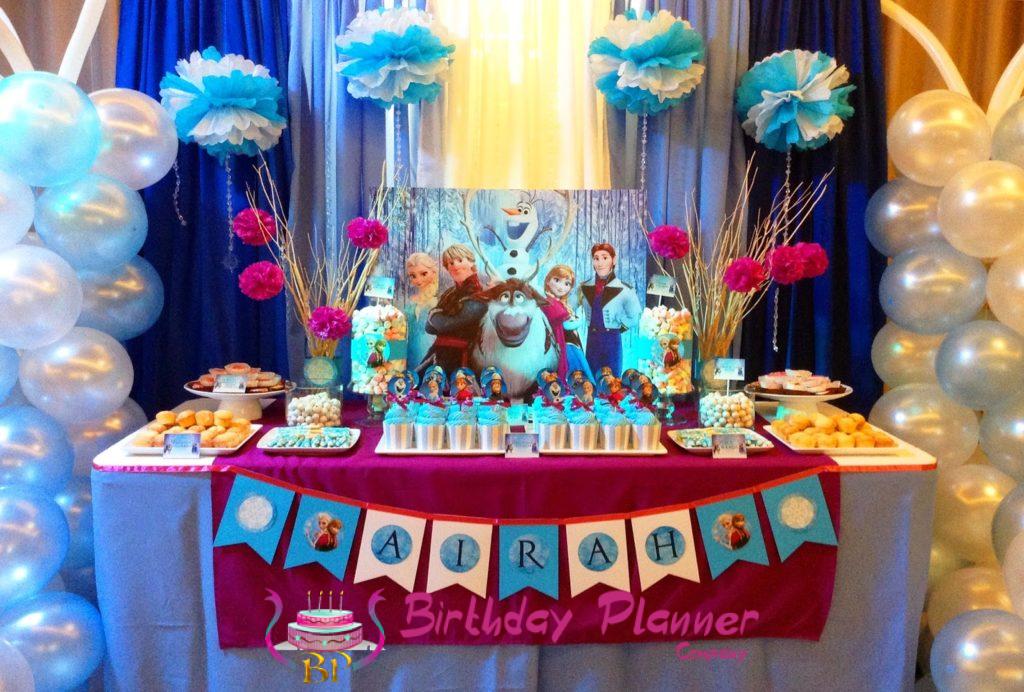 When it comes to fairy tales, frozen still tops the choice. It seems to be a strong option as ever. As proof, you can watch out the innumerable toys and fancy games themed on frozen decorating the shop shelves. However, dressing up as Elsa and Ana takes the charm to a different level. And if your daughter is also obsessed with frozen and her birthday is around the corner then arranging for a theme party can make the best choice to leave your little one dazzled in joy.
In this blog, we have brought in the ultimate recipe for organizing a Frozen Theme Party Planner, Decoration, Food ideas, Cake, Return Gifts, Supplies, games For Kids Birthday Organizer in Delhi, Faridabad, Noida, Gurgaon for your little daughter and watch her radiate in merry. Check it out below:
Dress her like a princess
The very first thing is to have the birthday girl dressed as her favorite frozen princess. either Elsa or Anna. You can find these costumes anywhere from a local dress shop, to supermarkets or simply order it online. Moreover, if you are hiring a professional birthday party planner then you have the entire costume arranged by them not only for your little one but for the other guests as well.
Themed birthday cake
The next in the line in the list is arranging for a perfect Frozen themed birthday cake with candles on it. Ordering a customized birthday cake in different styles like icing figures, an Elsa or Anna shaped cake, a digitally imaged cake or a three-tiered one. Pick the one that not only looks adorable but fab too.
Frozen Theme Party Decorations
Decorations play an important role when it comes to arranging birthday parties. Setting up the whole venue into a frozen palace will surely add a cherry on the cake. A bouncy castle shaped entrance and a grand entry by the inflatables in frozen characters will surely make a marvelous sight. There are plenty of ideas to choose from the internet. Besides, you can also hire a birthday decoration planner, who will get you all the necessary paraphernalia for decoration at a budgeted price.
Frozen Theme Party Entertainment
Well, what is a party without entertainment? And if you have the place decorated grandly with your little princesses all ready as her favorite frozen character, a few picky entertainments will add an edge to the splendid birthday event. You can either opt for themes games or snowball fights or selfies with frozen inflatables to garner a river of likes on Instagram.
And what about food? Want that just leave the guest awed in surprise? Like a bowl full of marshmallows, raisins along with other delicious food with icing and frosting.
Frozen Theme Party Return gifts
And a bag of return gifts containing themed gifts like notebooks, pencils, and dolls will complete the entire party. Pick wise, ideate nice and turn your daughter's birthday into an icy flight with a party.