BIRTHDAY DECORATION – WHAT ALL DOES IT INCLUDES?
Birthday decoration in Delhi  are worth it when done and looked at. However, there a lot of effort, hard work and planning are required to be put behind it. Even a mini party requires planning and execution. Putting up some balloons and a cake or setting a magnificent themed decoration, there's a lot involved in it. Being the best birthday party planners, we bring to you the answers to all your questions. Get all your queries clear before you get to us for anything we could do for you.
1. What are some of the unique birthday party decoration?
Uniqueness in birthday decoration can be brought through marvellous themes or excellent aesthetics. Adding some confetti with some beautiful wall decoration with pictures simply elevate the look and uniqueness. Birthday planner knows exactly how to do it the way you envision.
Some unique birthday party decoration ideas:
1. Hand-written messages on the wall
2. Hanging jars with lights
3. Some DIY stuff
4. Memories on the roll
5. A canopy space with toys
2. What are the elements of an excellent birthday party decoration?
Several elements are put into a birthday decoration in delhi. From balloons to confetti and more, there's a lot. To make it the way you envisioned, we put whatever we.
The elements put into the decoration for a birthday party are:
1. Cake – It is the heart of every birthday celebration
2. Theme – Makes everything much better
3. A great place to relax
4. A photo wall of the birthday personality
5. Play area and balloons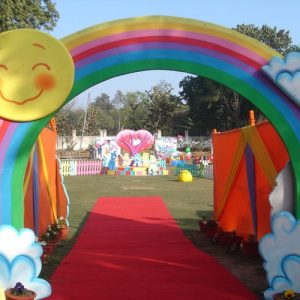 What kind of themed decoration can be done?
You name a theme and Birthday planner will do it for you. We have a wide range of themes to offer. If you have something out-of-the-box, tell us and get the magic done for you. For boys, girls, adults or personality-specific, we do it all for you. 1. Cartoon character theme 2. Superhero theme 3. Carnival or fiesta theme 4. Fairytale or fantasy theme 5. Campfire or Beer bash theme 6. Sports theme 7. Birthday Decoration
3. Are there any special requirements for a birthday party decoration?
Party planner tracks the process from the beginning until the decoration is done. We do it all and all you are required to do is to lay back and wait for the wonder to be created. The only thing you have to do is to hand over your desires and choices to us and get it prepared. Get the finest birthday decoration with Birthdayplanner. We are also committed to furnishing the finest and with our magic wand, we create dreams and wonders. Birthday Decoration in Delhi  like no other is what we have to promise.
4. How much time does it take for a themed birthday party decoration?
Birthday Decoration for a themed party cannot be done in a go. It requires proper planning and fine execution. At Birthday planner, we strive to set the best for you. The time taken depends on the theme you want and the scale of decoration. A room Birthday decoration in delhi takes less time than a backyard. Tell us the theme, help us with the designs and we have it done for you.