Punching Machine on Rent in Delhi NCR
The most competitive game that you can rent is Punching Machine Game or electronic boxing game machine which checks the strength of a person. Furthermore, It is useful when you wish to have a competition or a challenge at a party.  The world of youngsters has become challenging and everyone wishes to defeat each other and the punching game machine allows people to show off their strength in front of everyone. Not only for parties, but you can also hire this punching machine on rent in Delhi ncr for a corporate event, as this is the most effective stress booster. All you need to do is, punch the punching game machine hard and release all the stress and anger. Additionally, This punching machine game proves to be a good solution for anger management in the corporate world. We at Birthday Planner assures you for best punching machine game as punching game providers in Delhi ncr.
How To Use a Punching Machine Game?
Punching Machine is the game of scores. The person playing first will set his score and the opponent then has to beat the score of the first person. So, person with the highest score wins.
The punching score will be displayed on the screen and the gloves for the game are also provided by us.
Most importantly, the person who hits the hardest and has more score wins the game.
Additionally, This game can be played by anyone who wants to test his/her strength and has a competitive spirit. So, hire punching machine on rent from Birthday Planner Company and enjoy it.
Punching Game Machine Also Offers Health Benefits!
This fun competitive game makes you fit! It helps in burning fat. A person can burn around 500 calories by 60 minutes working out on a punching bag!
This game helps in reducing stress, depression and body aches. Therefore, you should hire punching machine on rent in Delhi ncr more than other party games.
It satisfies the urge to fight and helps in maintaining anger.
Also, it helps in teaching self-defense techniques.
It helps in increasing work productivity, especially for employees.
Last, of all, it is fun and refreshes your mind and body.
Therefore, hire punching game providers for rental punching game.
This game is also well known by boxing arcade machine and boxing arcade game in India.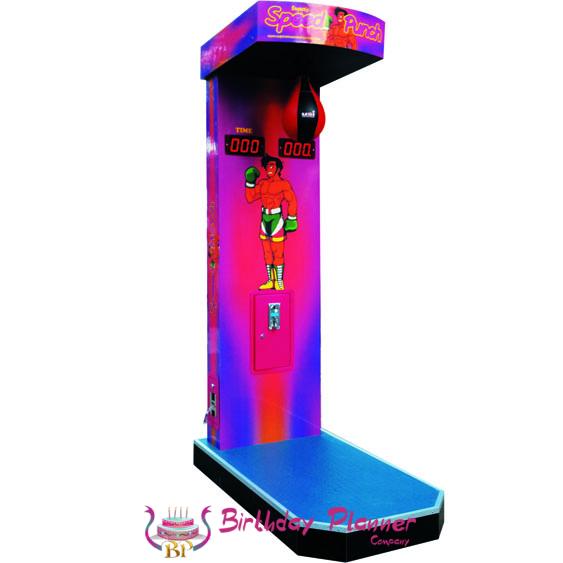 Quality & Price
The punching machine offered by us has low technical requirements for the operator and is easy to function.
It is provided at very affordable prices by us and goes easy on your pocket. Average market price of this punching machine game is 1.8 lac in India for purchase and 10k for rental.
You do not need to worry about the quality of the punching machine. Also, we use the best materials that make it impossible for the punching bag to burst.
Additionally, The material is fabulous and strong; you just need to make sure you wear gloves while punching the bag.
Hire Birthday Planner Company as your punching game providers on rent in Delhi ncr and be assured for best quality in town.
Conclusion
Not only boys but hitting the punching machine is for all the genders. You can organize a high-level competition by renting the punching bag and offer special prizes to the winners. Besides that, This gives them the motivation to punch harder and win. This game can be played in endless ways possible and no matter what age group the audience belongs in, it is always fun to punch!
To have a challenging and fun party at home or any corporate event where you want the strength to be a major factor, you can hire us as your punching game providers for this punching game on rent in Delhi, Gurgaon, Faridabad, Noida, Manesar, Agra, Mathura, Hisar, Karnal, palwal & in many more nearby cities. Contact us for more details.
Call Us For Booking : +91-9999990921, 8800690921