Chhota Bheem Theme Grand Birthday Party Ideas in Delhi, Faridabad, Every child looks forward to their birthday. It is no less than an occasion where they happen to be in the spotlight and garner everyone's attention. Besides, who wouldn't like to be pampered and showered with loads of gifts. A birthday party arranged based on a theme that to something which they are too fond of can be one of the best presents to shower your kid with on their birthday.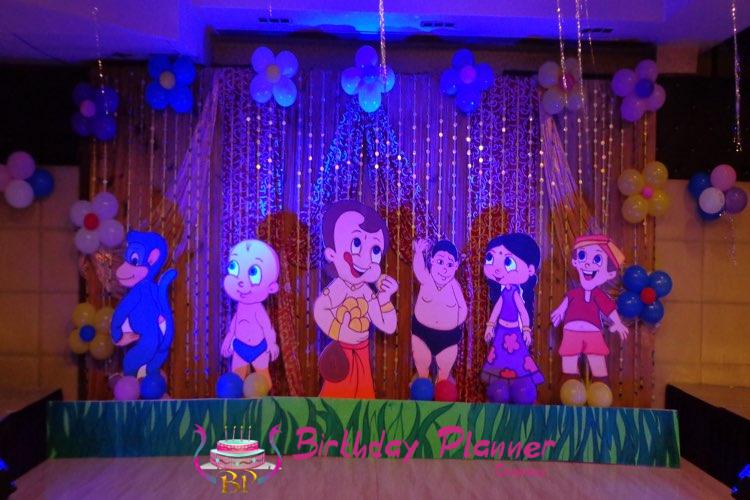 Chhota Bheem and troop happen to be one of the most loved characters by children nowadays. And herein arranging a birthday party is an added cherry on the cake. Numerous birthday planners offer theme-based party decoration to make your birthday party a complete extravagant event.
So are you planning to surprise your kid with a birthday party? Are you in the lookout for some mindblowing ideas on how to make the event an occasion to remember forever? Well, then this blog will surely deem helpful to you. Presented below are a few latest ideas for arranging the Chhota Bheem theme party for your little one. Read below:
A grand welcome by Chhota Bheem characters
It is not an oblivious fact that children are floored by characters like Chutki, Kichak, Dholu and Bholu, Jaggu Bandar, Raju, Chhota mannu and Chhota Bheem himself. And what if these characters come to life in real welcoming your kid and guests to the party? Exciting isn't it? The thrill and happiness in your child's face and all the children attending the party will be completely priceless. Inflatables are one of the latest craze and trend in birthday parties. And inviting theme inflatables will surely add an edge to the party.
Chhota Bheem Theme based decoration
Arranging for a theme-based party requires a lot of research and detailing. Right from the decoration of the venue to that of food, each must be impeccably coordinated. The guests must feel as if they are present in the world of cartoon needs looking into each detail.
Adding Chhota Bheem theme food, balloons, glitter can add a separate glimmer to the mood of the party.
This backed by different types of games, primarily those played by Bheem and his team is a great way of keeping the kids engrossed and enjoy the event to the crux. To do so, rope in your kid's favorite Chhota Bheem character to roam and play with kids. Some of the fascinating ideas include Chhota Bheem cupcakes, customized cakes, outdoor decoration with placards and banners, each one can add a separate spark to the event.
Chhota Bheem Theme invitations
Invites make a crucial part of any part. And designing the best invitation can leave a lasting impact on the guests. So, create the best Chhota Bheem theme invitation cards that inviting your close knits to your child's birthday.
Birthdays come once in a year. Make it a day for your child to remember. With the perfect ideation and paraphernalia present your kid the best present for the upcoming birthday.
Chhota Bheem theme is very popular among kids for their birthday party celebrations. Additionally, kids like a cartoon character and their stories a lot. Most Importantly, kids also enjoy their friends and kaliya too much. Birthday Planner provides the Theme party in Delhi and NCR like Gurgaon. Chhota Bheem is the varied popular character between Indian kids, small kids wanted to be as a Chhota Bheem, Chhota Bheem is an animated comedy and adventure series. series focus, point on adventures of a boy named Bheem and his friends in the city of Dholakpur.
Chota Bheem usually saves the city and people from various evil. This series is one of the popular animated series in India which is loved by kids. Each birthday party is special for kids and they wanted to make there each birthday party joyful. Birthday planner Customizes your birthday party according to you. We at Birthday Planner supply Chhota Bheem birthday party decorations and themes item. Birthday planner supplies, Theme decoration material, and Chhota Bheem tableware. The birthday planner also provides return gifts.
Chhota Bheem theme party services
Birthday planner Decors your party area as per the theme selected. So for example if the theme you selected is Chhota Bheem, the following items will be as per theme:
A movie of Chhota Bheem songs to play quietly in the background of the party.
Chhota Bheem gadget like toys, Disney 3d art.
Costumes for kid and adults, that will grace your theme party
cartoon posters, clay art models, the models.
Party accessories