JUNGLE BOUNCY ON RENT IN DELHI NCR
Never let your party be a boring one and get Jungle Bouncy Castle on rent along with slide. It is a real fun provider for children! Jungle Bouncy Castle has become very famous over time and kids just love it. Kids love to explore things and having a jungle theme can increase the level of excitement and fun. Jungle Bouncy Castle has become the perfect way to have fun outdoors for children with their friends. The Jungle Bouncy on Rent in Delhi can also be decorated in sync with the party theme. Once the set up is done, you can be assured that no one is going to leave your never-ending fun party.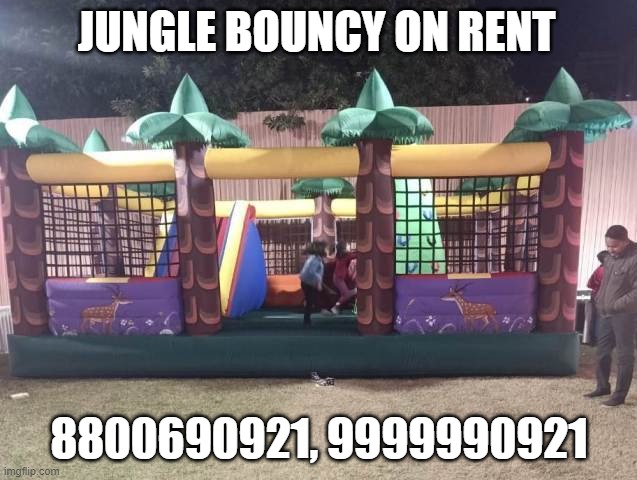 Why should you rent a Jungle Jumping castle?
In addition, Jumping Bouncy Castle keeps the children entertained. Kids love to crawl jump and roll and this all can be enjoyed in a jungle jumping castle. Furthermore, This is not only fun, but an excellent physical activity for children. This increases the level of excitement for your little ones. Renting is more easy than buying one because renting can be cheap and you do not need to worry about the jungle jumping castle once the party is over. Also, We at Birthday Planners provide the excellent service of providing jungle bouncy on rent in Delhi, Faridabad, Gurgaon, Noida, Ghaziabad.
Are there any precautions for setup of jumping bouncy castle?
The castle should not get overcrowded. One of our attendant is always there with the children.
You must make sure that no child is carrying any sharp object.
If you rent the jungle bouncy on rent in Delhi ncr from us, you really need not to worry about anything as we provide excellent support and services to our clients.
Where can you rent a Jungle Jumping castle in Delhi NCR?
We are here for you to provide you with excellent and affordable rental services. Providing Jungle Jumping Castle on hire is one of the most popular service.
We have a great experience in event management from past 12 years. Additionally, we know the exact needs and demands of our clients.
Affordable Services is what you can expect us from. We provide jungle bouncy on rent & jumping castle services to lift the mood of the party at very low cost!
You do not need to worry about setting up of things when Birthday Planners are here to give you full support.
Hire Us Now:
We are always happy to help our customers so that they do not get stressed and enjoy their party to the fullest. Additionally, Having a Jungle bouncy on rent or jumping Castle in a party promotes physical activity and excitement. Apart from this we can also provide you the jumping castle according to the theme. It can be done according to the party theme like a boy's birthday or a girl's birthday or event according to adults. Contact us on the below mentioned address & contact details :
Address Details: Khasra No 22/15 Plot no 17 Matiala Industrial Area, Uttam Nagar, New Delhi.
Phone Number: 91-9999990921 (Email : Harry4events@gmail.com)     
You can also visit our website: https://www.birthdayplanner.co.in/