Candy Floss Machine on Rent in Delhi NCR
Everyone knows that kids just love candies and especially when it is sweet and fluffy! Also, having the right amount of tasty snacks is very important when it comes to organizing a party for children. Additionally, having a tempting candy floss machine on rent at a party helps children to enjoy even more. Furthermore, no matter what gender your child belongs to, the sweet candy is enjoyed by all! We can offer you best candy floss machine price in India, if you are planning to buy this. Furthermore, we offer discounts on candy floss machine for sale. Therefore, you just have to buy online it from our website. Birthday Planner Company is best service provider for cotton candy machine for hire.
What is a Candy Floss Machine?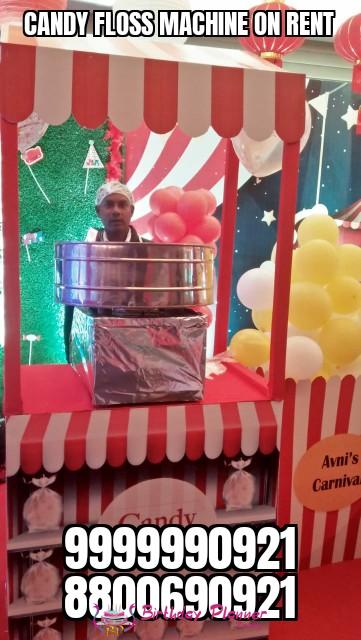 Candy Floss machine is very famous equipment that produces mouth-watering candy with the help of sugar and color. Besides that, Cotton candy machine for kids is also referred to as 'Budhiya ka Baal ' in India due to the appearance of candy. In addition, cotton candy machine for kids can produce different colors of candy.
Furthermore, some people also call it 'Cotton candy'. Also, Candy floss machine rental can be easily spotted in fairs and events for children. Additionally, different characters can also be produced using the candy floss machine rental.
Why Candy Floss Machine on rent is must-have in a kid's party?
The first benefit of the Candy Floss Machine rental is that it is very easy to use. The Machine can produce up to 6-7 servings per minute. It simply goes with any event or party. In addition, machine can produce different flavors of candy-like Vanilla, Chocolate, and Strawberry according to preferences of little angels.
No matter what age group it is, everyone enjoys cotton candy. Cotton candy machine for hire in Delhi is like a magnet to kids and everyone can enjoy the same. It is very fast, efficient and ample amount of candy floss can be produced. Just make sure no one overeats!
How does the candy floss machine operate?
Candy Floss Machine rental is very easy to use and has very simple rules to operate. There is a power switch and lets the machine run for 1-2 minutes and so the machine starts to run smoothly. After turning on the heating switch, the machine gets warmed up in 4-5 minutes.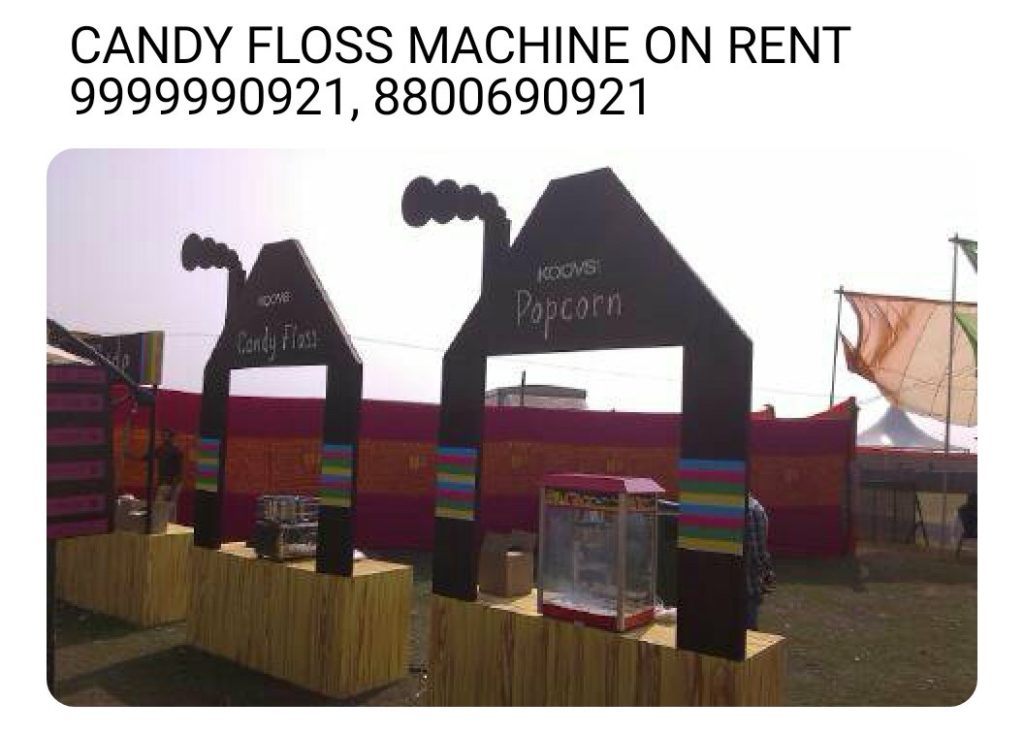 A spoonful of the granulated sugar is then added to the machine and the candy floss will form in roughly 30 seconds. The flavors are also added according to the preferences. The stick is then attached and revolved around and it is ready to eat. A supervisor and a candy serving-man will be provided by us to serve and operate the machine.
Conclusion:
Candy floss machine on rent is the most famous element to make any event or party successful. This machine is very handy and can be used in outdoor and indoor parties. The machine is very easy to operate and children just love the different flavors and shape it can produce! This machine makes sure to give the Indian touch to a western party.
The machine can produce plenty amount of candy for the children and is a very good option for renting purposes. Get best price for purchasing this cotton candy machine for kids in Delhi, India. You can purchase this cotton candy machine for home also.
Hire us Now
As children can go crazy over it and it will remain easy on your pocket too! You can rent candy floss machine from us in Delhi NCR (Gurgaon, Noida & Delhi) at affordable prices. Also rent ice-gola, nariyal pani, ice-cream and many more counters on rent from us.
We at Birthday Planner Company have best cotton candy machine for hire in Delhi as well as for selling purpose. Additionally, you can also buy or rent popcorn machine, chocolate fountain machine and sweetcorn machine from us. You just have to call us at +91-9999990921 or mail us at harry4events@gmail.com.