Hire Steamed Sweet corn Machine On Rent For Birthday & Events
Sweet corns are not just healthy but a very tasty snack. Besides that we can serve this in many events like birthday parties, anniversary, family day and even corporate events. Additionally, Steamed sweet corn machine on rent in Delhi Ncr is gaining very much importance. This is also named as sweet corn steamer machinery in market. Also we can see this in malls and metro stations. People of any age group can enjoy this tasty snack. Not only loved by kids, but elderly people also enjoy it. The tasty and healthy snack can be prepared in multiple flavors like Plain Salted, Lemon flavor, Pepper flavor, and spicy masala flavor. It usually becomes the main source of attraction for people in any event or party as it is easy to eat and serve. Most Importantly, Birthday Planner Company is top steamed sweet corn machine provider on hire.
Our service area for providing this rental sweet corn machine is Delhi, Gurgaon, Noida, Faridabad, Ghaziabad, Greater Noida, Agra, Mathura, Hisar, Sonipat, Manesar, Karnal and many more cities.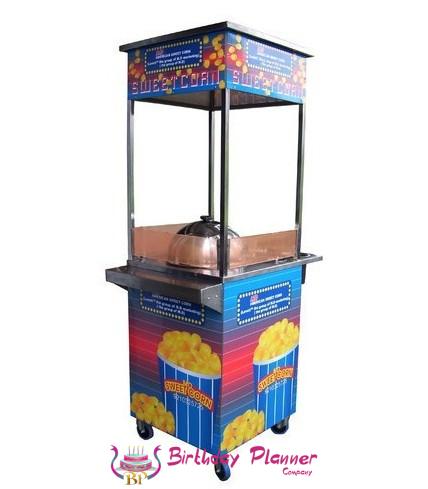 Steamed Sweet Corn has many benefits:
Having a sweet corn machine provides endless benefits as it is the best choice for health-conscious people.
Most of the snacks in the parties are high in calories and fats and then there is a crunchy snack 'sweet corn' which is healthy.
This healthy snack is very beneficial for your little children because of the benefits it provides. It helps in enhancing Blood circulation, Strengthen hair strands, Improves vision and Boosts energy.
The snack in the party can help your child to develop the taste for sweet corns and they can eventually start asking for it at home.
It is a high fiber food and also reduces the risk of lung cancer. So, Hire us as your sweet corn machine providers for parties & events.
Is steamed Sweet corn machine easy to operate?
Yes, steamed sweet corn machine is very easy to use and operate. We provide best quality steamed sweet corn machine on rent in Delhi Ncr.
The machine has a stainless steel construction which ensures durability.
The machine has a vertical design and works very efficiently.
Lastly, serve these sweetcorns in a cup with spoon to enjoy.
Features of steamed Sweet corn machine:
The machine usually has 1000 watts or 3000 watts depending on the dimensions of the machine.
The machine is usually 4 ft long.
We also provide bowls for mixing and making of masalas.
The machine has automatic temperature control.
Sweet corn machine providers use very attractive signage to attract little children.
There will also be an optional area provided which works as an inbuilt freezer at the bottom of the machine.
Different types of Seasonings will be provided by us.
A person to serve and make the sweetcorn will be provided by us.
Conclusion
You can hire sweet corn machine on rent in Delhi NCR (Gurgaon, Delhi, and Noida) from us at reasonable prices.
The sweetcorn machine becomes the centre of attraction for kids at the party. Kids enjoy this snack the most because of the mixed flavor provided. The snack is a mixture of sweet and salty.
The snack is very healthy and the best choice while choosing snacks for the party.
It helps in killing hunger and gives energy to children.
Anyone can easily operate this machine as there is nothing complicated associated with it.
If you planning steamed sweet corn machine for hire, you can contact us at your earliest convenience. We are best sweet corn machine providers in Delhi & all over India.
Some Additional Party Rental Machines On Hire For Eatables
Candy Floss Machine On Rent / Cotton Candy Machine On Rent
Chocolate fountain machine on rent
Ice Gola On Rent
Ice Cream Counter On Rent
Chuski Counter On Rent
Banta Counter On Rent
Narial pani Counter On Rent and even more