Popcorn is the best and the lightest snack which you can serve with cold drinks and also this is a healthy snack! Happening food makes the party happening too! It is very important to have quality popcorn provider to satisfy the spark of partying of your guests. The party isn't even a party when there is no popcorn. You do not need to worry anymore about finding that perfect popcorn machine that is easy to operate and easily available at affordable rates. Birthday Planner Company provide you with the yummiest popcorn by providing popcorn machine on rent in Delhi. Now, you get the point, why you should rent out popcorn machine for birthday parties and events. Our service for renting popcorn machine is Delhi, Gurgaon, Noida, Faridabad, Ghaziabad, Dwarka. We can provide this machine within 100 km from Delhi.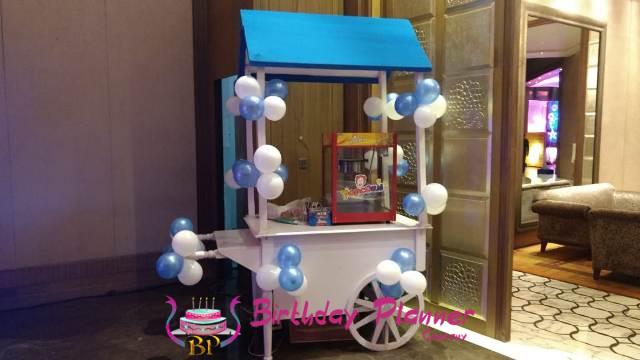 Never let your party be boring and we can help you stand out from others by providing best party services and machines! Be the best host in the city by renting this amazing popcorn machine on rent from Birthday Planners.
How much time popcorn machine take to prepare popcorn?
Renting popcorn machine from us is the most easy and convenient thing to do. It takes few minutes to prepare. All you need is a stand or a table and hurray you have yummy popcorn for your loved ones. The machine is very easy to use and it is always better to rent a popcorn machine rather than buying one.
Whatever the festival is, you can rent popcorn machine from us on almost every occasion like Festivals, Carnivals, Parties, Birthday Parties, and Special Events. We will provide you full support and guidance to use the machine. We will also provide you some special tips which you can use for making the yummiest popcorn ever!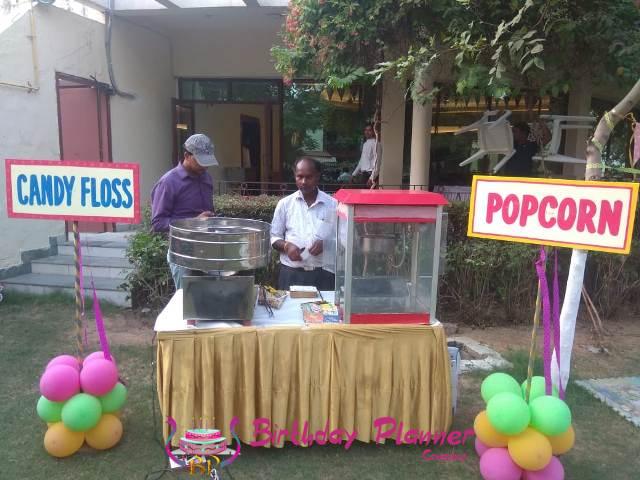 This machine works like magic and provides you as many flavors you want. It can produce Cheese popcorn, Butter popcorn, Plain Salted popcorn and Caramel Popcorn. Endless mouthwatering tasty healthy popcorn in just minutes.
How to use popcorn machine, if we buy it for home?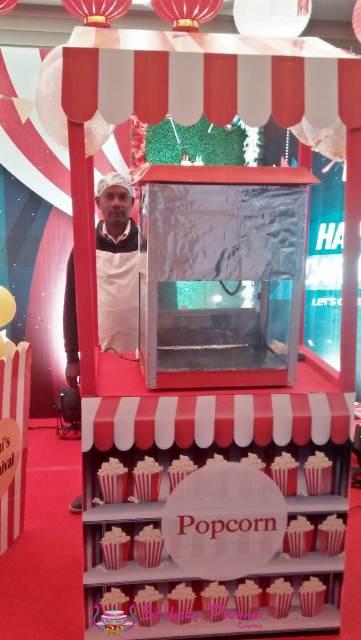 You can easily use this popcorn machine by turning on the kettle motor and kettle heat switches. You can start by using the three kernels and a little oil at first. Once the kernels pop you can put more oil and corn charges in the kettle. When the kernel has popped you can repeat the process until you are satisfied with the number of popcorn.
Do remember that when you are done with the popcorn machine let it cool down for some time and remove the excess oil with a very soft cloth.
We understand the needs and concerns of our clients, hence we make sure our machines are made with highest quality and superior finishing to provide you with best experience. Your guests won't be able to stop themselves from having the delicious popcorn. Also, we make sure that our popcorn machine keeps on producing the tastiest snack nonstop.
Renting Popcorn machine Is Better Than Purchasing It For Events
We have popcorn machine on rent in Delhi at affordable prices available with us. Therefore you don't need to waste your money for buying it for a party. Don't miss the chance and make your party a magical one with Birthday Planner. You can contact us on the following for renting purpose:
http://www.birthdayplanner.co.in/ ; harry4events@gmail.com ; Phone : 91-9999990921