CASTLE BOUNCY ON RENT IN DELHI NCR
When it is a party or occasion, you just cannot let it be a boring one. There must be a fun element in the party. Without bouncy castle for kids is a party even a party? Where will you get the fun part from? Castle bouncer rental is the ultimate fun for children and they enjoy it pretty much. It gives them immense happiness and excitement. So, it is a must have when throwing your child's birthday party. Do not miss the real fun element and hire children's bouncy castle. Hire Castle Bouncy On Rent in Delhi ncr at very lowest price starting at just 6000/- only. We are top bouncy castle provider in India for sale and renting.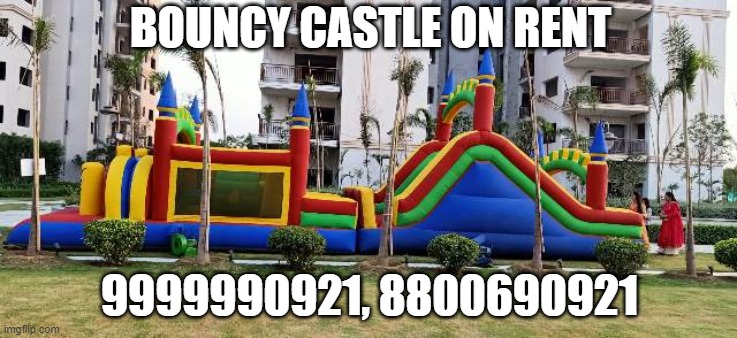 Are Bouncy Castles Safe?
Yes! Bouncy castles are absolutely safe. Besides that, It is in fact a really good exercise for your kids. The materials that are used for castle bouncy castle is very soft and ensures a very bouncing funny landing. Therefore, You need not to worry about any kind of injuries to your loved ones. Also, you just need to make sure that any child is not carrying a sharp object.
Is there a choice for themes?
Yes! You can choose from various themes like:
Superhero Castle, Princess Castle, Pirate Castle. We will provide you the best Castle Bouncy for kids according to the theme and layout of the party.
Why should you rent a Castle Bouncy?
A castle bouncy is really healthy for your child. It leads to running and jumping and hence is a very good exercise for children. Furthermore, This gives a twist to the party.
Renting bouncy castle for kids from us will not be hard on your pocket as we provide best castle bouncy on rent at reasonable prices. We hold a great experience in event planning and birthdays planning and so we have a good idea about handling things and taking care of our clients.
Buying a castle bouncing castle doesn't make sense at all because it can be hard on your budget and you may not even require it so often. Renting from Birthday Planner's can be easier solution to your immediate needs and requirements. In addition, being best bouncy castle provider, we provide it for birthday party, family day functions and many more occasions.
Where are you get a theme based Castle Bouncy in Delhi NCR?
We, Birthday Planner's are here to help you with the renting solutions. Additionally, we provide the best services in Delhi NCR. You can hire theme based Bouncing castle from us, like Micky Mouse Castle Bouncy, Disney theme Castle Bouncy, Jungle Bouncy and many more bouncy.
We will provide you with full support and guidance on how can you make you party a successful one! Being top bouncy castle provider in Delhi ncr, you can rent or purchase at very cheap price.
Hire Us Now / Contact us:
In addition, we hold around 12 years of experience in event management. Additionally, we have the best support team in Delhi NCR for rental bouncy services. Furthermore, we provide best bouncy castle on rent and retail solutions in Delhi, Gurgaon, Noida, Faridabad etc. You just need to tell us about the party you are thinking of throwing and we will plan everything for you. Therefore, if you wish to have bouncy castle for kids in your party, just contact us on the address mentioned below:
Address Details: Khasra No 22/15 Plot no 17 Matiala Industrial Area, Uttam Nagar, New Delhi.
; Phone Number: 91-9999990921; (Email: Harry4events@gmail.com)
You can also visit our website: https://www.birthdayplanner.co.in/