Arrange the best Motu Patlu Theme Party for your Kid's Birthday
Motu Patlu Theme Decoration for Birthday Party in Delhi, Faridabad, Noida- A kid's birthday is one of the most special occasions for parents than anything. It is the time to celebrate their charming presence, and share this wonderful occasion calling out near and dear ones to come and grace the function. Birthday parties are a wonderful medium to meet and greet people. It renders one the opportunity to get out of the mundane and juggle of life by celebrating the event with galore and joy. Motu Patlu Party Decoration in delhi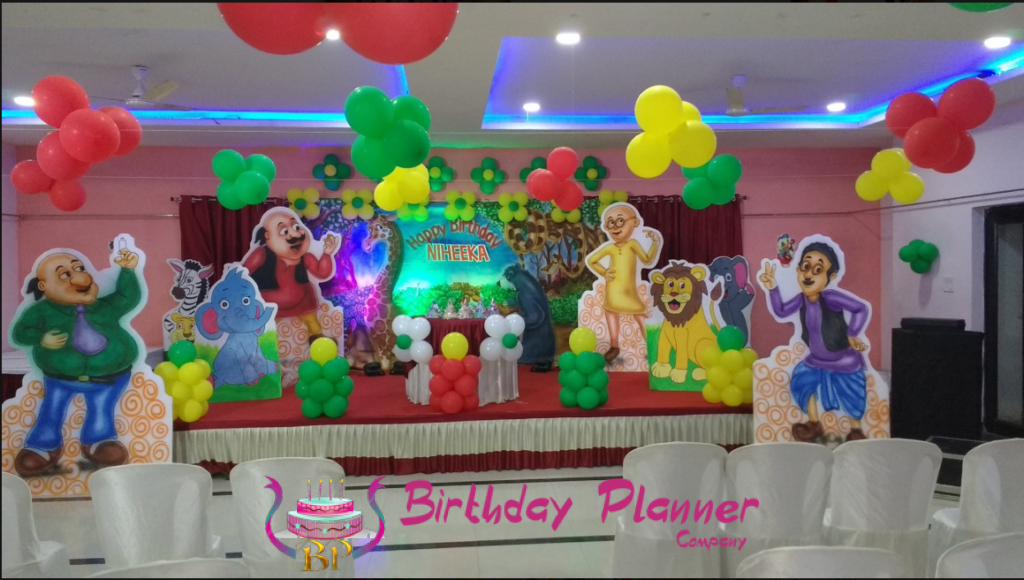 However, planning a party is not an easy thing. It requires extensive detailing, coordination and looking across whether everything is in place or not. Herein, theme parties are one of the raging concepts that opportune people to explore their depth of ideas and celebrate the occasion adding a unique touch to it.
Make it extraordinary
Your child's birthday is not an ordinary function but a grand occasion which you wish to celebrate calling in all your dear ones and having one gala time. The current trending theme party that is gaining popularity among kids is the Motu Patlu theme Party decoration. The series is so popular across India, that is considered one of the best themes to try out. It will not only keep your kid entertained but also make them feel at the top of the world meeting their favorite animation character.
How to arrange for the Motu Patlu Theme party?
Well, decoration here becomes the central criterion that can turn transform the entire mood of the event. The type of decoration that you opt for will ultimately set the tone of the party. Hence, opting for the best decoration idea will surely set the mood of the party to a great
extent.
Present them a unique world of ecstasy
The advantage of opting for the Motu Patlu theme for your child's birthday is that since they are one of the most liked characters, they will feel more related to it. Moreover, since it is your child's birthday, it makes it necessary to have everything set as per the liking of your kid. Something they can relate well with and that which will keep them engrossed.
What are the elements you can add to your Motu Patlu theme party?
A theme party presents the ground for experiments. You can explore varied ideas that surround the cartoon character and thereby arrange for the best birthday party. Some of the elements include:
Motu Patlu Inflatables
Watching their favorite cartoon characters walk into the party to greet them will surely make your child spark with excitement. Rope in Motu Patlu Inflatables and other characters to dance and enjoy with the kids. Also, won't that make a great stop for clicking selfies too?
Motu Patlu Caps and Masks
Get customized Motu Patlu caps and eye-masks to get into the mood of the party. Besides, erecting Motu Patlu placards or selfie corners will surely add on an edge to the entire event. Motu Patlu birthday decoration in Delhi.
Other decoration aspects include Motu Patlu theme cake, music, return gifts and huge sized cut-outs, that are not only beautiful but also extremely alluring.
Present your child the best present this birthday arranging for a themed birthday guaranteeing a lot of fun.