Candy Land Theme Party Ideas
Candy Land theme
Our Candy land theme party guide will help you create a rainbow world. Besides that, rivers are chocolate and gumdrops grow on trees just like in the animation picture of Candy land! There is a lot of room for creativity with this party theme. Therefore, we have organized ideas for Candy land invitations, Candy land decorations. Additionally, Candy land food, Candy land party favors, and games.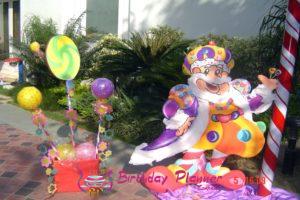 Besides that, If your child's mind with the thought of a colourful world with rainbow, where rainfalls are chocolate and gumdrops grows in dream jungle.  Then you guys must select Candy land themed birthday party in Delhi!
Candy land theme decor: When you select such a thought full theme for your child,s birthday party, Birthday Planner have lot's of room for creativity. Birthday planner will provide you inspiration for invitations, Candy land theme decorations,Candy land foods, Candy land theme party favors, and Candy land theme games, that will help you plan a super sweet celebration.
Candy Land Party Games
Most importantly, Birthday planner company gives you variety of options to choose games and activities. You just have to choose your desired game or activities for your kids birthday party. Additionally, we have also interesting games and artists for adult birthday party too. Decorated Candy land tables into different stations that accommodate with the different Candy land areas (Candy land Chocolate Brittle House, Candy land Lollipop Woods, Candy land Gingerbread Plum Trees, Candy land Peppermint Forest and Candy land Gumdrop Mountains). We Use different Candy land theme colored table covers for each station to make them unique. At the time of party, you guys will need an coordinator for each station to give the children instructions about other steps we will let you know about the candy land theme game. Kids can rotate stations every 15 minutes to cover one hour and forty minutes of time.[/fusion_text]