Birthday Planner – We are the Esteemed Birthday Party Organizer in Delhi, Faridabad, Gurgaon, Dwarka
We are the recognized birthday party organizer in Delhi, Gurgaon, Noida, Faridabad, Ghaziabad and offer our services to kids, teens and adults within the means of the customers. This means choosing and booking a party, discussing details with us and then simply relaxing and enjoying! No stress with the preparation, no work at home! Whether it's a themed party, a teen party, a creative party, or an overnight party — we have the right party package for people belonging to a specific age group.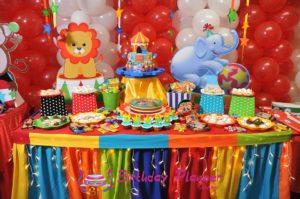 Our caring team of birthday party organizer takes care of the birthday party of kids and adults thoroughly. Furthermore, we exceeds the expectations through the quality and dedicated organization. In this way, every celebration gets its magical and individual touch and makes the event very special to the entire satisfaction of the host as well as guests. The parents of the celebrant kid or the adult celebrant himself/herself and their guests can attend the hustle and bustle of the party with great fun and frolic!
And the best reward for us? Sparkles in the children's eyes and happy-go-lucky and happy parents! Based on your preferences, you can either celebrate in a specific location in or near Delhi NCR. Most importantly, We are at ease to come with our team to the place of your choice.
We excel in decorating birthday parties
A birthday is always an event that is absolutely one of a kind. With this in mind, the party room and the birthday table should also be dressed up. Without a shade of doubt, you can always find a vast compilation of birthday decorative items in our online shop!
Birthday decoration: For little ones
Every birthday should be celebrated perfectly and with a truckload of fun. The first birthday of a little one is not only exciting but also emotional at the same time. That said, the birthday decoration should be out of this world. When the little ones complete the first year of their life, this is something very special for all parents. In no time, with a pink or light blue birthday party decoration, you can make the 1st birthday of your little one a memorable event for a lifetime.
And we at Birthday Planner, the best birthday party organizer in Delhi, Gurgaon, Faridabad, play a seminal role in making the birthday of your little one an event worth remembering. We have a variety of decorative items ranging from pennant garlands and balloons to funny motifs to make this event a complete fun and entertaining.
Birthday decoration: For the grownups
It is unfair if consideration is given only to the celebration of the birthday of the little ones or juniors? For a birthday bash, age is simply no bar! In adults birthday party, the party room should be festively decorated, although the major focus should be on the table decoration.
Gaudy table runners are the icing on the cake every birthday. Alternatively, you can use place mats or paper quilts as a base for paper plates and paper cups. With color-coordinated tableware you prove style and ensure a harmonious overall picture. Do not fret over if doing all this irritates you, we the best birthday party organizer in Delhi are ready to help you to the fullest.
Include Theme parties to inject extra fun and enjoyment
To slip into the role of your heroes, you are never too old! If you want to host a theme party, not just the right party decoration is required but also a broad variety of colorful costumes should be included. We at the Birthday Planner, the premier can help you choose the best themes (according to different age groups and gender) from a wide range of themes we have listed on our website.
Girls Birthday Party Themes
We, at Birthday Planner, the best birthday party organizer in Delhi & Gurgaon. Additionally, we encourage you to celebrate the birthday of your little daughter with a specific birthday theme. We can help you choose girls birthday party themes for her from the wide range of themes.Also, we have listed these themes on our website. The variety of the themes range from Frozen, Princess, Little birdies to Masquerade Ball Party, Barbie and more — we have it all.
Here are a few special themes for your little celebrant girl:
Enchanted Forest Party
Winter Wonderland Party
Cinderella Theme Party Decoration
Cupcake Wars Party

Boys Birthday Party Themes
As the parents of your little boy, we understand that no other day is as special as his birthday. Therefore, we are here, to make this birthday as unique as possible with maximum fun. We at Birthday Planner encourage you to choose from the wide range of birthday themes. So, we have listed for you on our website Birthday Planner.
Here are a few special themes for your little celebrant boy:
End Note

In addition, Birthday Planner is a prominent birthday party organizer in Delhi, Gurgaon. Choosing us, you can rest assured that your birthday celebration will be out of this world. Furthermore, We are your best friend and guide who will organize the event step by step. We not only include our personal ideas while organizing. Additionally, we include yours ideas also to give a complete and perfect look to the event.
Besides that, We always strive to offer an unmatched birthday party planning in Delhi & Gurgaon. We are sincere, honest and dedicated birthday party organizer in Delhi & Gurgaon who goes hand in hand with the customers. In the long run of our efforts, we take the step to make the event a memorable. Also, Once you hire us for a birthday planning, you will tend to choose us time and again for an unmatched and luxury celebration.