Are you wondering how to make your party a funny one? Where everyone can enjoy no matter which age group they belong in. We have an amazing service for you where we provide mechanical bull ride on rent in Delhi NCR. There is a very soft and bouncy surface installed where the bull is operated and is perfectly safe and fun. Yours guests will have a memorable party. Mechanical Bull Ride game makes the party epic. You can rent mechanical bull ride from us no matter what the event is. The game is fun for whatever event like Birthday Parties, Corporate Events, Festival Gatherings, and Backyard BBQ.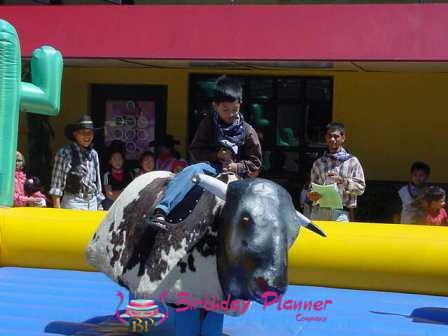 How does Mechanical Bull Ride works?
It is very easy to operate Mechanical Bull Ride.
The Bull is operated manually. First it starts with a low speed and then eventually the speed increases.
When the bull stops, the rider may fall on the bouncy surface.
Is it safe to use Mechanical Bull Ride?
Definitely! There is no problem faced as this is easy to operate and real fun. As there is this bouncy surface attached, it takes care of the rider. Children can also play.
Where can you rent Mechanical Bull Ride from?
We, Birthday Planner provide Bull Ride on rent in Delhi, Gurgaon, Noida, Faridabad, Ghaziabad at affordable prices. We have a great experience in making birthday parties real fun and we provide excellent customer support. Your needs are our priority. We have our services available in Delhi, Gurgaon, Noida (NCR).
Why should you rent Bull Ride Machine and not buy it?
Renting of course is easier than buying a Bull Ride Machine as renting the same is easy on pocket and you not need to worry about anything. It helps you to enjoy the party without much efforts and problems. When it is a birthday party, Mechanical bull proves to be the biggest fun factor. During the corporate parties Mechanical Bull helps the employees to come out of their shells. When you have a backyard party, your family members and relatives can have ultimate fun by having different competitions among one another to see who can stay longer on the Mechanical Bull.
Contact Us
We at Birthday Planners are helping the customers to save big. Make your party unforgettable by renting from us. With the experience of providing best parties in Delhi NCR we know the exact need of our client and so we are always happy to help and we try to provide the best service possible. Renting from us will be easy on your pocket and you will have an amazing party to remember. So wait no more and give us a call. We will make your party a crazy one by providing you the fun Mechanical Bull on Rent.
Phone Number: 91-9999990921 Email: harry4events@gmail.com
You can also visit our website: http://www.birthdayplanner.co.in/