Cowboy Theme Party
5 Things Worth Knowing About Cowboy Theme Party
Cowboy theme party is a unique concept of birthday theme. Do you have a boy in your house? In that case, you ought to know about few things surrounding boyism. First things firsts, boys love to do anything that contains an element of being a macho. A lot of time they can be seen playing the role of a cowboy.
Therefore, if you are planning to organize a birthday for him, think about Cowboy theme party. It offers them a rare occasion when he can readily grab his boots, spurs, hat and cowpoke.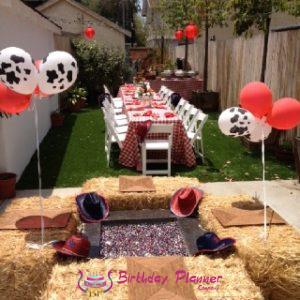 This party becomes twice entertaining when you are aware of few things. The following are 5 things worth knowing:
Planning
Irrespective of brilliant arrangements you make, the party at times does not yield great results. On introspection, you will realize you missed out one crucial aspect. This is all about proper planning and invitation. Just like you need to have a clear road map when you drive, so is the case with hosting such a party.
It could be a cowgirl or cowboy party. However, the fact of the matter is – you ought to opt for appropriate color schemes. Ideally, choose something that matches yesteryears modern feel. Coming to colors of this Cowboy theme party ideas, give preference to ones that work well with the theme.
Invitation
It is worth remembering – the invitation you select plays a great role. It induces your guests not to miss the celebration. You can easily create these invites. Simply download from the internet. Once done, give a personal touch to it as well. For instance, address your invitee as Cowgirl Miss X or Bandit Mr. Y.
there is no hard and fast rule regarding the naming. However, adding something innovative adds to the fun of the event. Talking about innovativeness, you can even go with burned edges. To bring out the true western feel, using a western description will do the trick.
You can add this feel even to the envelope you select. For example, think about using stickers that contain images of a cowgirl or cowboy.
Capture The Party Moments With Correct Videography
A lot of planning and hard work goes into organizing the party. Likewise, a lot of emotions are in flow during the course of the event. The best way to preserve these moments is to choose Cowboy theme party videography.
Currently, it has become easy to achieve this goal. For instance, you can hire professional photographers. They are readily found both off-line and online.
Hiring them is worth the price. They are well trained and possess necessary expertise. They are good in catching the candid moments. For example, they can record your son portraying the role of a cowboy. Such videos are very precious. You can share them with your loved ones.
Select The Cake With Care
Your son and his friends will relish the cake provided the selection is correct. Additionally, Take his opinion before you decide. Besides that, This will ensure the Cowboy theme party cake will be relished by everyone.
End The Party With Appropriate Return Gifts
It's a kid party. Naturally they will expect some kind of party favor and Cowboy theme party return gifts. You can wow them y your selection. It is always better to choose something that is in great demand. For instance, you can opt for Wooden Cute Animal's Design Photo Frame, Unisex Canvas Shine Unicorns Theme Hand Bag, to name a few.