Add the element of Magic in Birthdays with Exciting Magic Shows
Magic Show for Kids Birthday Party in Delhi, Faridabad, Noida, Gurgaon –When it comes to organizing a party, we all look for different ways we can turn it special. This includes opting for an exciting theme, roping in professional artists as well as setting up stalls. However, amongst all other activities, a magic show always tops the list. It is a known fact that children love magic and displaying. The best magic show during a birthday party or any event makes one of the best performance choices. When it comes to a kid's birthday, these shows are designed that will make the best birthday present for your kid in addition to turning it into a memorable event for all the guests too.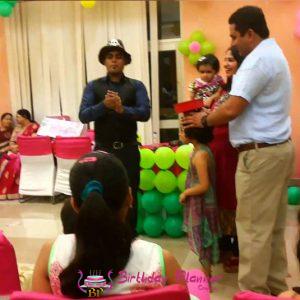 So, if you are thinking of surprising your child on his/ her birthday by arranging for a special magic show. Then here we have discussed a few essential points to consider to make it a treat for all.
Plan appropriately- Magic Show for Kids Birthday Party in Delhi, Faridabad, Noida, Gurgaon
One way you can arrange for a successful show of magic is by planning for it way in advance. Moreover, getting the appointment of magicians in advance will save you from running in the hunt of a magician at the last moment. So, better begin the entire preparation one month prior. In this way, you will have sufficient time in your hands in case of sorting last-minute changes.
Hire the best magician
Hiring the best magician can add an extra spark to the entire event. However, searching for the best one can one arduous task. Herein, the internet is one place that can come as a rescue. Most of the magicians have their own website and browsing through the different websites and viewing the profile can make it easy to find the best out of the lot. Besides, you can also ask for references from people you know whether they know of any professional magician who can change the entire mood of the event. Magic Show for Kids Birthday Party in Delhi, Faridabad, Noida, Gurgaon.
Do not delay booking for a magician
It is advisable to book your magician before time to avoid any kind of delay. As magic shows are a popular thing in birthday events, there are chances that your magician may be already booked. If you are not able to find any at the last moment may bring down the entire mood of the event.
Plan the performance
After you have booked your magician, do not forget to discuss the idea and requirements with them. You can also ask the magician for good ideas and gain a detail of what he would be performing on the day of the event. Besides, as this is a kid's event and children do love magicians, ask your magician to interact and involve kids including your child when performing a few tricks to add to the fun element. Magic Show for Kids Birthday Party in Delhi, Faridabad, Noida, Gurgaon.
Present out birthday return gifts magically
Do you wish to add a unique spark to your kid's birthday party? Well, then why not ask the magician to hand out to every kid their return present using the magic wand. Not only will children feel special but also this would uplift the tone of the party impeccably.
So, arrange for the best magic show and watch the magic spread around making everyone smile and enjoy it. Magic Show for Kids Birthday Party in Delhi, Faridabad, Noida, Gurgaon