Balloon Decoration Ideas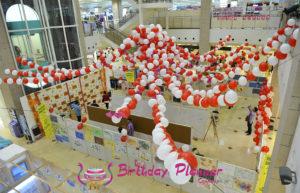 Select color of your balloons according to your theme. Balloon color is very important for theme parties.
Now analyse your party area. Imagine your party area how it will look like after decoration.
Select Right place to put your balloon structure and bunches.
Now Start Making balloon bunches of four balloons, six balloons, or more.
While making balloon bunches try to use two different colour.
Take a stand and bind balloons with that stand. You can say it as balloon stand.
Balloon Stands are use to place at different place of party venue.
Now You have to take a ppc electricity pipe. Bind balloon bunches from start to end of pipe.
We Use this ppc pipe to make balloon arch gate. Insert this ppc pipe into balloon stand and your arch is ready.
Take a thread according to your party area size. Place those balloon bunches on that thread with some distance. This thread with balloon is used to cover your Party roof.
https://www.youtube.com/watch?v=IzYsoalBna4
Important Balloon Decoration Ideas
 Now Start Placing things at there right place.
Put Balloon arch in front of main gate.
Place balloon stand at corners from where it is visible to guests. You can also place those stand some where in middle of party area.
Paste balloon bunches at wall where you feel it will look better.
Bind balloons with thread from one end to and end, to cover your party areas.
You can also place some toys and chocolates on tables.
Decorate your cake table with balloons, lights and nets.
Place some foil balloons into your party area. Foil balloons comes in different Animated character shapes. So you can buy foil balloons according to your theme
Cover your cake table according to theme. You can buy Table cover from market or you can also made it from home.
Use lights on balloons so that it will shine and seems like party is going to start.
Cake is heart of the birthday so buy cake from nice shop. Order your cake according to your theme from nice place.
There is many other parts in balloon decoration which will blow your party.