Get Ideas With Birthday Planner in Delhi NCR That Can Make a Birthday More Lively and Engaging
Every year contributes to making us feel more matured and bringing more experience and knowledge. Therefore, the celebration of each new birthday party Delhi NCR requires a new idea, a special approach to organize a holiday. The celebration should reflect the growth and maturity of the individual. A birthday planner in Delhi NCR will help you in achieving your goal.
Each upcoming birthday causes its own set of unique emotions: someone is waiting for him with impatience and inventing a plan for six months, and someone wants to arrange a stormy celebration to escape from the philosophical thoughts that will rush. Therefore, for organizing a good holiday, you must have a huge stock of effective ideas for holding it!
One-stop platform for all your birthday party needs
However, when it comes to thinking over the best birthday party ideas, our mind automatically runs fast and gets many different wonderful ideas. However, deciding the right one is a tough job. You may like many ideas simultaneously but are on the fence as if where to start from. All of us want to make our birthday party the most interesting and unique one. Experimenting with variety is the flavor of life and can lead to many new inventions. You can come up with the most interesting birthday party ideas by simply thinking and experimenting.
That part is fine but what about if you do not have time to organize and execute the birthday party on your own. It is because maybe you lack time and/or do not have the experience in dealing with such events. We at Birthday Planner, a notable birthday planner in Delhi NCR, we can make this big day event radically distinctive. However, we first need to know what your likes and dislike are. If you have not yet decided what kind of birthday party you want to host this time, then we have very good ideas to put across you and put them into implementation. In any case, whether you put your personal birthday celebration ideas across us or we help you in this regard, we are committed to meeting and exceeding your expectations.
Birthday Planner – The Finest Birthday Planner in Delhi NCR
When planning a birthday party for yourself, your kid, or a family member, we at Birthday Planner are a distinguished birthday planner in Delhi NCR who ensures that it is going to be the best one. We give a thought to the preferences and likings of the person for whom you want to host a birthday party. We make sure to work around the ideas that are mostly liked and loved by the person. As we plan a birthday party considering the age of a birthday celebrant, this helps us in getting an idea about coordinating specific things people in that particular age prefer to do.
Themes, Invitations, Decorations, Foods, Drinks, Activities & Entertainment
There are various things that we consider at a birthday party like themes, invitations, decorations, foods, drinks, activities, entertainment, and various other things. We cover all the best ideas for your birthday party is doubtlessly going to be the most happening one this time. You can take help from us, the professional birthday planner in Delhi NCR, as we can think about the best birthday party idea and make the required arrangements on our behalf. Right from designing a personal invitation for your party to arranging for suitable venues, food, drinks, and decoration, everything will be done by us.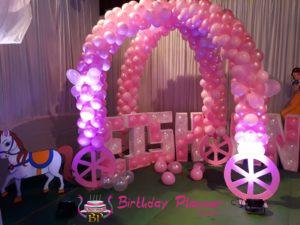 We are the best birthday planner in Delhi NCR and we can meet and exceed even your every single need. We can decide the right place where all your guests can fit and hire the best caterer to provide quality food and beverages to your guest. Moreover, we are responsible for taking care of the lighting and decoration, arrange seating, stage, and entertainment— the most important element of the party. We the best birthday planner in Delhi NCR also make sure that you have the best birthday party ideas and most happening birthday party ever. Spending a nominal amount on availing services offered by us the experienced birthday planner in Delhi NCR is far better than struggling alone.
Wonderful Birthday Celebration Ideas – Birthday Planner in DELHI NCR
Planning a birthday also begins with choosing a place. Birthday Planner, a well-recognized Birthday planner in Delhi NCR, will help you choose the right one – a cafe or a restaurant, a country picnic area, or a themed cottage, a banquet hall, a roof of a house with a great view. We can organize a host of your guests to travel to another city to offer you to spend your holiday right on the wheels (for example, on a special holiday bus or limousine)!
For a successful celebration, you need a special design for the celebration site. For the classic scenario of the birthday, we the unbeatable Birthday Planner in Delhi NCR will offer you fresh flowers, fabrics, and balls. If you dream of a theme party, we will help you in the selection of every detail ranging from invitation and guest costumes to wall covering, ceiling and floor!
An integral part of the celebration includes the treats. We will help you to create a stylish and balanced menu, or, if you wish, we can organize catering (catering).
A birthday entertainment program must comply with the concept of celebration. We will offer you to choose a leader from a number of the best professionals, invite artists of various genres, musicians of any style, pop stars. We will organize a show program at the desired level. The holiday will be filmed on photo and video cameras by the best experts in their field. And the completion of the birthday will mark the solemn and enchanting salute!
Hire us now!
In pursuit of the goal to arrange the best birthday in your life, we, the ultimate Birthday Planner in Delhi NCR, are ready to fulfill all your wishes. Our opportunities are limited only by your imagination!
So what are you waiting for, hire us at Birthday Planner, your ultimate Birthday planner in Delhi NCR? Render your birthday with everything you have been looking for. We wish you have a wonderful Birthday Party.