Unicorn Theme Party Planning & Ideas in Delhi, Gurgaon, Faridabad, Noida & Ghaziabad
As lucky as you feel about your child, their birthdays are special to and you definitely want them to know how lucky you feel to have them in your lives. What better way than celebrating their birthday party with the most charming, filled with sparkling rainbow colors and lucky Unicorn theme party. The most trending and vibrant birthday theme party, our experienced birthday planners guarantee your loved ones would definitely feel lucky after the celebrations.
A rare sight as it is, witnessing a rainbow is amusing and it always brings a smile to our face.
As Unicorn brings luck, the rainbow completes it with joy and happiness. Combining luck and contentment, our expert professionals have excellent ideas to add fun and excitement to your birthday celebrations.
Let's prep for unicorn theme party with Birthday Planner Company
A birthday party is a day's celebration, yet, the planning starts months before. As birthday planners, we understand how crucial it is to not miss out any of the details. Selecting the right venue is the key and first step to appropriately start the party planning. Once you know the place, the size, look and feel of your venue, you exactly know what to do next. It helps you decide the decor, how many guest can be accommodated and what activities you can have.
Organizing a theme based party as critical as their nature, demands more details. Knowing the venue can certainly support our team to set the environment and mood accordingly.
Unicorn theme party decorations
If you cannot create the feel of the theme and set the ambiance straight, you are not doing justice to your theme party. Thus, decorations are vital.  Imagine the joy and excitement on your child's face when they walk into the vibrant and colorful rainbow setup. Hanging up rainbow colored streamers and banners will certainly add the edgy feel of the theme to your birthday party. It brightens the venue and certainly clones the smile of your kid.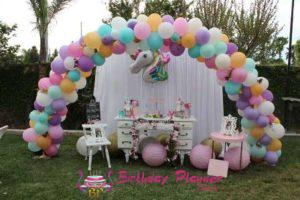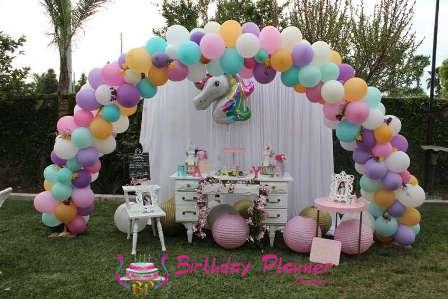 Adding more enthusiasm to the unicorn theme party, add unicorn balloons to your unicorn themed birthday. Our team will manage to provide excellent and quality handmade unicorn and rainbow balloons that can float all around the party. It definitely adds a striking and remarkable feel to the celebration. Further, we can also have magical art pieces on the wall with messages on luck and happiness as per the unicorn theme.
Adding colors to your celebration, a unicorn rainbow party also embraces a noticeable center table. You can add more color by decorating the table with colorful drapes, handmade colorful paper flowers or adding rainbow colored centerpieces. This attractive center table can also be the best cake cutting table for your celebration.
For more fascinating feel, adding colorful lights or stage setting with rainbow light or unicorn graphics, can definitely do wonders to your unicorn theme party.
Unicorn theme based supplies
Organizing a theme based birthday party means you need to have everything as per the theme. You cannot afford to mix and match, or let's be real – you cannot compromise! Thus, our experts ensure no compromises. You have us for all your needs.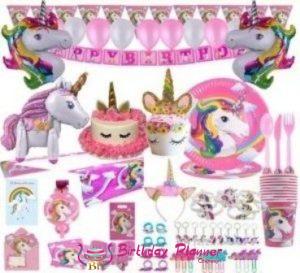 As the theme party, we promise to make your party more happening. We provide other necessities basis the theme that will add to the appeal and design of the party. We provide special plates for serving with unicorn and rainbow theme embedment. The bright colored plates with unicorn messages of luck will add the elegance too.
Additionally, do you remember the gems chocolate pack? The colors and feel of it. What if you had colorful chocolates in a goodie bag that your guest can carry back? That is what we are talking about. Adding colors and solution to your much happening rainbow unicorn birthday party.
The Flamboyant Invitation Cards
 Invitation cards whether digital or print is an important factor while preparing for your birthday party. While a lot struggle with the color basis the theme, rainbow unicorn theme provides you the best and distinctive choices of color to choose from.
Combining unicorn luck with colors definitely makes it a vibrant invitation for your guests. Thus, we guarantee they cannot turn down your party offer.
Interesting Eatables for Interesting Theme
 There is nothing more interesting than food for kids and foodies. Fortunately, a rainbow unicorn theme allows you to have a table full of colored food items that is definite to increase the hunger appetite.
The Unicorn Cookies
What can excite a child more than a cookie. All you need is a unicorn cutout of the cookie, some added colors maybe on it to make it enticing. We assure you, the cookies are definitely going to make enormous table rounds.
Magical Cup Cake
The kids will love the cupcakes in different colors. Sprinkled with rainbow colors, the cupcakes are a guaranteed selling point of this theme party. The magical and colorful cupcakes definitely make good snacks for the unicorn theme party.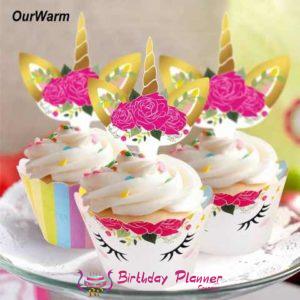 Unicorn Cake
We can also provide specially made unicorn cup cakes for your cake cutting ceremony. The one horn horse cake design is definitely the outstanding surprise you can arrange your loved one on this special day.
 Unicorn Ice Cream
 Why serve a plain vanilla ice cream when you can add colors to it. We maintain the theme in every way possible, thus adding food colors and glitters to your special ice cream serving.
 Special Items
How about adding some colorful marshmallows to the adorable rainbow unicorn theme birthday party? Marshmallows are always a favorite, and we are sure no one would ever say a no to it. You can also add some special rainbow macaroons to your desert table.
Let's take a Color Click
A birthday party is never complete without pictures and what better than colorful pictures with your loved ones on this special day. A special photo booth built accordingly with rainbow and unicorn theme is definitely going to be the most visited and crowded section of your birthday party.
Nonetheless, as the best birthday theme party organizers we offer endless and countless options for our customers to choose from. Along with, we also, guarantee happiness and memories on this special celebration for you and your loved ones.