Themed Birthday Party – 7 Things To Remember
For kids, Birthdays are the best events. Therefore, if you have a kid you can throw a Themed birthday party. Many parents choose it to surprise their kids. The event excites the kids because it means more than having a cake. It brings in the opportunity of unbridled fun, gifts and frolic.  Needless to say, these stimulate the kid and they feel special.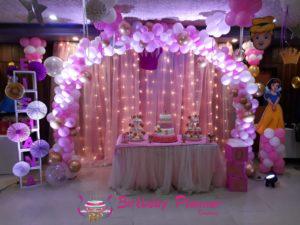 You too can arrange for such a Themed birthday party. However, you ought to keep in mind few essential things. This will ensure you have a smooth party. Your kid's happiness is of utmost importance to you, right? Therefore, keep these aspects in mind so that your kid and his/her friends end up having a great time.
Following are the 7 most important things :
Keep A Surprise Element
Avoid having routine birthday celebrations. These are devoid of any novelty. Normally, the host sends invitations, welcome the kid guests, ask to cut the cake, add some dance and music or games. These are termed as casual festivities. Your child is a special one and he/she deserves something special as well. This does not necessarily mean it ought to be expensive items. You can make them happy with simple things as well. What matters is choice and selection. It not need be materialistic rather something ethereal!
You can always keep an element of surprise and your child will love you forever. This way, the Themed birthday party memories will last with the child forever. Remember – everyone loves surprises. Children are no exception to this rule. However, just ensure the event remains a surprise. Modern kids are very intelligent and clever. Children above the age of five possess exceptional sense to discover hidden truths. Therefore, it is better not to call your child's friends. Instead, call their parents and keep them in confidence. Share the details so that they can appropriately help to keep the party a secret till the last moments.
Avoid Elaborate And Expensive Decorations
Undoubtedly you want to give the best to your bundle of joy. This does not mean it has to be expensive and costly. Avoid this as far as possible. Instead, choose fun and simple Birthday decorations. You may be surprised to know there are scores of such alternatives available. For instance, you can opt for Glow Balloon craft to light the party. You don't need to spend a fortune for it. All it needs an LED or a glow stick and the balloon. Like many, you too can use markers to draw things on it.  Depending upon your choice, you can even incorporate different art works on these balloons. It will create a wonderful theme. Use it as an activity for your kid and his/her friends. You can even display the art in the venue!
Exclusive Party Decorations
Human tastes are different. Therefore, what might suit other might be a perfect alternative for you. This is especially true with Birthday decorations. This explains why many choose a colored birthday theme. They make every effort to decorate the venue with birthday girl or boy's favorite color. They contend it makes the celebration more vibrant. You can ask your guests to wear a dress of a particular color or shade. It will definitely give a monochromatic feel and everyone will love it. You can always rely on something that is popular among kids. Some of these include items like Led Balloons, Happy Birthday Foil Balloons With Champagne Bottles And Glasses, to name a few.
Play With Numbers
The number plays a crucial role when it comes to decorating items like balloons and candles. Choose a theme appropriately and make sure to deck up the space with numbered candles and balloons. Not everyone is capable of estimating the number of candles or balloons that will be needed. Take help of an expert Birthday planners. They are well versed with every aspect of such a party.
For instance, Birthday planners can recommend you online stores to approach. This way you will be able to procure decorating items of your choice. These stores maintain huge collections. They have a wide range of items that come inbuilt with a number written in them. This number signifies the age group. Some of the popular items include things like birthday hats, teddy bears, masquerade, etc. If you delve deeper, you will realize they also offer different arte-facts of various age-groups.
Have The Personalized Cards For Your Guests
You are organizing the party for your child and his/her friends. They will come to the venue anticipating some kind of a return gift. It is always a healthy practice to give them such free goodies. They will feel on top of the world on receipt of such items. It enhances their enjoyment level. Consult the Birthday planners before you decide. They are familiar with tastes, likes and dislikes of children. So, They can recommend you rightfully for your themed birthday party.
They will recommend you to gift personalized cards to the young brigade. For instance, if the kid has attained any milestone, you can include a message like 'Every New Birthday Is A Milestone On The Awesome Journey Of Life.' You can even highlight one thing that you find very good.  For example, highlight something about his/her wit, good looks, kindness, class, charm, style, sophistication, sense of humor, etc. A personal touch will take the party feelings many notches higher. Children love when they receive something that has a personal touch to it. for instance, you can write the name of the recipient together with an inspirational quote!
Why Not Choose Amazing Birthday Party Settings With Some Help?
Everyone does not possess the same amount of expertise. Hence, they are enable to adhere to every aspect of organizing a birthday party. If you too belong to this school of thoughts, there is some respite for you ! There are several Birthday party organiser who can guide you in this regard. This will save you from encountering an embarrassing situation if things go wrong.
A Birthday party organiser can provide you with different kinds of supplies. Not only this, they offer a range of services as well. Coming to the supplies, they can instantly supply items like arts and craft items, birthday caps, decoration materials, happy birthday banners, toys, balloons,  invitation cards, cake and disposal utensils, and more.
Likewise, the Birthday party organiser offers a number of services. These are mostly needed by people willing to organize a birthday party. They make appropriate arrangements in this regard. For instance, they will easily decorate your birth day party venue. Similarly, they can decorate the birthday table to the doorway to the entire space. They also offer expert guidance to plan the themed birthday party.
Take Expert Help And Have The Last Laugh
It is well understood you are ready to do everything to make the birthday bash a grand success. Nevertheless, due to paucity of time, expertise or otherwise, you may not be able to achieve this goal. Never mind, this is definitely not the end of the tunnel! There is a ray of hope – you can always rely on the Birthday party organizers. This way you can end up having the last laugh as well.
The Birthday party organizers are no ordinary service providers.  Remember – managing    everything with regards to the bash is no joke. On top of it, it is your child's birthday party. It means you cannot commit error in making perfect arrangements. After all, you are required to pay head to a lot of factors. For instance, the quality of food you serve or return gifts you give away. Any wrong move could jeopardize the party mood.
Don't forget, kids a impatient lots. They can create havoc if things do not meet their expectations. Being a parent you would definitely not like this to happen with you, right? Moreover, when such a situation can be avoided, why not do that? No one likes to leave a bad impression on their guests. Here, we are talking of guests who are kids. You would not like to see your child's friends making fun of him/her.
Therefore, why take chances when you can easily avail the services of Birthday party organizers? Let us not forget, children are sensitive in nature. Arranging a get-together warrants tremendous amount of physical stress as well. Fortunately, these professionals offer an excellent helping hand in time of need. They will take care of all arrangements in return for a price. Taking about the costs involved, it is peanuts when you compare the outcome of the party. They take care of every single aspect involved in themed birthday party.
Today, due to easy availability of Birthday party organizers, planning a bash has become a joyride! It means you do not have to panic at all. Just take help of cyberspace and everything will happen smoothly with mere few clicks. A piece of advice – just ensure the service provider you select is well capable of converting the get-together into a gala bash. Choose one having enough exposure in arranging beverages and foods for both, young and adults.