Birthday Planner is key-role for Pumpkin Carving Party
Its celebration time and this is evident. You will easily spot one of your friends, relative or a unknown face busy with making preparation for a party. Human tastes are different. Likewise, the preference also varies from an individual to another. However, one thing is common in all – they look forward to derive tons of fun and enjoyment. Pumpkin Carving Party can be party booster for you.
If you too want to be one of them, you can opt for a Pumpkin Carving Party. It's simple and easy to host such a party. Also, you do not have to burn a hole in your pocket. All you will need to do is to comply with few basic aspects. Most importantly, Please adhere to these 4 points and you could have the last laugh
1. You Offer The Tools And Ask Guests To Bring The Pumpkins
Organizing this party is no mean feat. Additionally, you have to take care of so many aspects. You simply just cannot afford to bear one additional burden. This is – your responsibility to carry a trunk full of pumpkins! Therefore, to be on the safer side, you may ask your guests to carry their pumpkins to the venue. Furthermore, Just inform that the cutting tools will be provided by you. It is better to bring pumpkin carving kits and share between guests. If possible, arrange for the costumes like you do for pumpkin carving party costumes.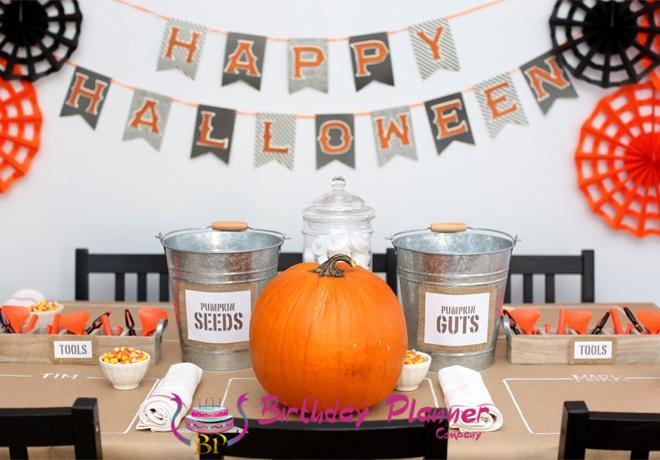 2. Serve The Appropriate Food Items Related To Pumpkin Carving
Remember – this kind of party involves pumpkin and it is preferable to serve them something with a touch of pumpkin. In other words, go for food items that are mostly served by others during a pumpkin carving party. It includes items like pumpkin hummus with Pita chips, cheese and cracker plate, toasted spicy pumpkin seeds, butternut squash risotto, to name a few. So, They will definitely like these as they are entirely different from Wine and Cheese Party foods.
3. Think Out-Of-The-Box
You have made all arrangements with one sole objective. In addition, you want all guests present ought to praise your efforts for the party. Why not make such effort by opting for 'think-out-of-the-box'? How about making 'Pumpkin cookies– with- cream cheese frosting' and surprise your guests?
Remember – a lot of people are die-hard fans of pumpkin cookies. Also, These are pleasantly spiced and this gives them the needed reason to have it. Presence of a soft-cake-like texture is an added advantage.
The best part – you don't have to part with large sum of money to procure ingredients needed. They warrant fewer ingredients and less effort as well for pumpkin carving party. So, Just follow the steps written in any DIY information available in internet.
4. Decorate The Event Venue
Only inviting the guests and making appropriate ranges for food is not sufficient. Make sure there is rightful decoration in place at the venue. Choose the pumpkin carving party decor items wisely. Place them at the right spot to derive the desired outcomes.
For instance, balloons and banners are something that attracts people. This also goes a celebration vibe in the atmosphere. Therefore, make sure you place it in such a manner so that people can see it clearly. Similarly, choose them according to suitability of available space. So, lets start your celebration with pumpkin carving party.