Hire Foosball Table – Fun Game For Birthday Parties & Events
Do you want your party to be ultimate fun? How can you forget to hire foosball table on rent In Delhi? In case you do not know what foosball table game is, let us help you a little here. Foosball is a game very similar to football but football cannot be played at home and so the invention of foosball table was invented.
No matter what your party is about, if you have foosball table at your place then bang! It will be the most fun party anyone ever attended. And we are here to help you by providing a very good quality Foosball Table on rent in Delhi NCR.
Foosball Table on rent in Delhi Ncr
Foosball table game is a multiplayer game and many people can attend the game at a same time.
It leads to a healthy competition and fun.
Best thing about having a foosball table game on rent at your place is there is no obstacle which can stop the game. You do not need to worry about the weather outside at all.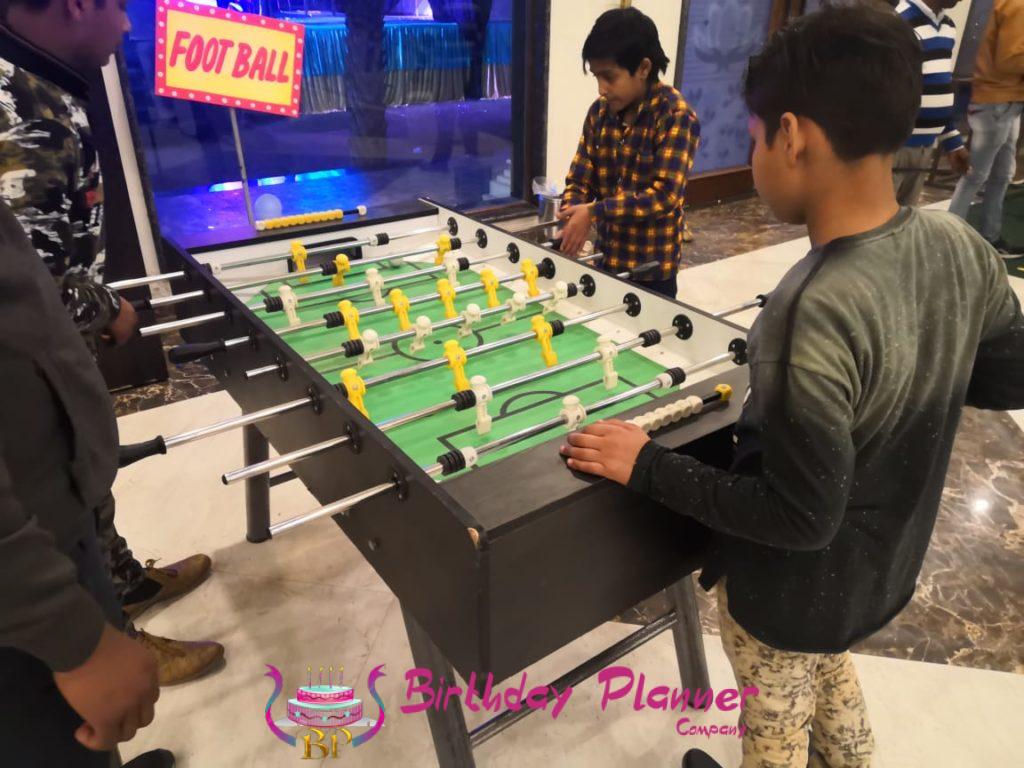 You can easily find foosball game on rent in Delhi NCR. As we, Birthday Planners, have our operations in Delhi, Gurgaon and Noida. It is very easy to assemble. There is just a table, some rods and ball and you are all set to rock the party.
Does this game also offer health benefits?
Here comes the wow factor about this game! It is not just a fun game but a very healthy game too! Having foosball table can help you with health as you need to stand to play this game and for people who spend all their day sitting on chair or children who sit on chair all day in school and tutions, it is a good physical and mental activity. We are top foosball table provider in Delhi, Gurgaon, Noida, Faridabad, Ghaziabad, Greater Noida.
Foosball Table comes in variety of shapes and sizes
If you rent foosball table from us, you do not need to worry about the size as this game comes in various size and options.
If you think the quality of the table depends on the size, then you are wrong. Be assured of the best quality and durability from us.
We have small size of 4ft / 2ft foosball table and 6ft / 3ft size.
Kids want something different and unique every time they go to a birthday party and every game they play should have something fun about it. Foosball table is one of the most entertaining games. It is not just the fun part but the game is mentally and physically beneficial too!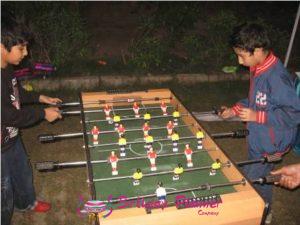 Not only for the kids party, but this game can be highly appreciated in college events. Many of the students are big fan of the series 'FRIENDS' through which they get attracted to this game. Now they can live the dream by getting into the character of friends series by having a foosball table on rent at their place!
Not only for youngsters but this game can be enjoyed by the corporates to refresh their mind and help them to learn new tricks and techniques. You can have a foosball table on rent in some office party and have unlimited fun.
Foosball is that one game which anyone can play and you really need no special skills to play this game. So rent yours now with us today! We have others game like Hammer Game. we have Air Hockey Table, and Cricket Bowling Machine, Bull Ride and many more. Additionally, We have stage for rent in Delhi ncr.