Construction Theme Party
Use Construction Theme Party Signs And Enjoy The Fun
If you have a son, think about giving him a Construction theme party. There are obvious reasons for this suggestion. For example, boys do have a fascination of playing with trucks and bulldozers. You must have seen him playing the role of a foreman as well.
Of course, if you wish to give him a pleasant experience, make sure to include appropriate Construction theme party signs. These are no ordinary items. On the contrary, they are more powerful and effective. In other words, they help in tying up the entire look of such a party.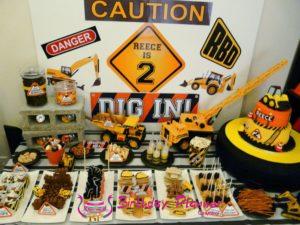 These signs can be printed very easily. They are readily available in the marketplace. You can apply these as food signs for your dessert table. Not only this, these can be posted on your walls. This in turn will help in completing the construction theme.
If you are organizing the birthday bash for your child, make sure to choose something cool. Modern kids are very fashionable. They like everything that is cool. Therefore, it does make sense to opt for cool Construction theme party ideas. For instance, go for a multi-tiered cake. These layers will resemble layers of colorful chevron, wheels, roads and dirt.
Keeping the little kids engaged is very challenging. However, you can do away with this difficulty. To make sure they enjoy the party, give them appropriate items to play with. Some of these are in great demand. This list includes items like a toy hammer, cardboard box tunnel, a sand quarry, to name a few.
Needless to say, any event does not look like a party unless you decorate it appropriately. The same is the case with a construction themed party. The décor items you choose should speak volumes about the theme. If you need a helping hand in this regard, make sure to choose the popular items. Select something like Construction Personalized Banner, Construction Dangling Cutout, Construction Centerpiece, Construction Cones, Constriction Traffic Signs, and more.
At times, no matter how best of arrangement you make, you still don't see enough guests turning up for the party. This mostly happens when you have gone wrong in inviting them. Remember – when you invite the guests with rightful Construction theme party invitation cards, you have won half the battle!
The party is in itself a special occasion. It requires you to make the announcement appropriately. For instance, you can opt for 'Dump Truck' as the invitation printout. Make sure to incorporate every minute detail. This will ensure your invitees receive the correct information.
For instance, it ought to include vital information like date, time, address, contact number, etc. Of course, to suit the theme, the wordings of the card can be different. For example, for announcing the 'date', you can word it as 'project date'. Likewise, the 'time' becomes 'shift, 'address' becomes 'job site', 'contact' becomes ' report to' and so on.
This small measure will benefit you many ways. Firstly, your guests will be willingly come to the party. Secondly, it will give them a hassle free experience. Remember – they are coming to unwind and have fun. The least you want is to give nightmares with half baked information in the cards!