CARNIVAL THEME PARTY
5 Essential Facts About Carnival Theme Party
Most Importantly, A lot of people love Carnival theme party. They contend presence of balloons, clowns, bright colors and games make the perfect combination of a festive celebration.
Besides that, You can host one such party as well. However, it is possible only when take proper initiatives. Additionally, Miracles won't happen overnight. Instead, you need to plan and think months in advance.
Naturally, one thing comes to mind. What are the aspects you need to take care of? Following are the 5 essential facts that deserves your special attention: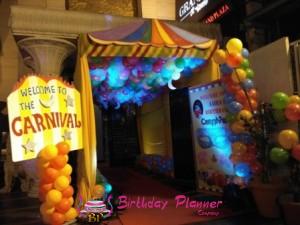 Arrange For A Praiseworthy Party Entertainment Alternative
Modern lifestyle has taken a toll on kids as well. Therefore, They spend large part of daily routine in commuting and studies. Additionally, Playing to their heart's contentment happens very rarely.  It is PARTY like this that offers an opportunity to have total entertainment.
So, why not choose the best carnival party entertainment option? Yes, it is all about hiring a clown. This clown in question is professionally well trained. They know how to entertain the small brigade. This is evident when you see children getting glued to the clown's actions. Therefore, people prefer it when they think about Carnival theme party games.
Your Decoration Should Reflect A Carnival Spirit
Give a 'Midas touch' to the festive decoration with Carnival theme party themed printables. You can also go for traditional white and red stripes. Add a contrasting blue to it as well. You can easily take off the dull feeling in the surrounding. This can be achieved by decorating the tables in the correct manner. For instance, put creative centerpieces on it. This will make sure your decoration is eye-catching.
If money is not a constraint, you can readily find few other items as well. Therefore, This list includes items like giant popcorn bags balloon arch, carnival treat centerpieces, vintage circus theme centerpieces, striped banner, circus tent from streamers, carnival party attraction sign, circus tent piñata, etc.
Opt For Personalized Invitation
Firstly, You can make a special bonding with your guests. Secondly,Just make efforts to create the invitation. When you buy the same invitation from the marketplace, it fails to attain this objective.
It is worth remembering – you don't organize such parties every day. Neither do your guests go to every party they are invited. Naturally, you may think how to induce them to come over to your party? Personalizing the invite will do trick. They will feel special and wanted to receive such Carnival theme party invitation cards.
Creating a personalized invite is easy and simple. For instance, you can make the carnival booth invitation with few things. At best you would require construction paper, tiny clothespins, striped wrapping paper, round stickers, and tickets.
Make Guests Feel At Home By Creating Your Own Food Tent
Remember – you do not require rocket science knowledge to create one. Simply convert the patio furniture at your home into a Carnival Food Tent. Besides that, Make sure the covering of the tale is done with right cloth. Additionally, You can add glamour quotient to it by string small balloons. For example, choose water balloons for twinning. Take a golf tee and anchor this twine to nearest ground.
Do you want this tent to look extraordinary? Simply think about brightening seating arrangement. You can easily achieve this goal by knotting scraps of any colorful fabric to chairs. Just sit on the chairs with Carnival theme party dress up to feel the atmosphere.
Treat Your Guests With Best Carnival Party Foods
Most importantly, Serve them popcorn! This is an all-time favorite with party goers. Besides that, you can even choose the chic and sassy varieties. Movie theater style popcorn falls in this category. The other food items include items like cotton candy, hot dogs, and corn dogs.