1st BIRTHDAY DECORATION IDEAS
We provide you these tips to make baby's 1st birthday decoration ideas stress free. Planning before the Birthday party will make this joy full occasion filled with cute birthday decorations and activities. You can check 1st birthday decoration ideas below.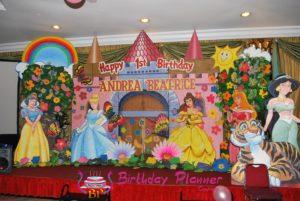 Birthday planner have everything you need from birthday party supplies to birthday cupcakes and everything in between.
Below are 7 stress-free tips and theme ideas for 1st birthday decoration ideas.
 you can check these tips to organise your birthday party uniquely and theme based. Besides that, we can also do various things for 1st birthday decoration ideas.
1st birthday decoration ideas
1. Watch the time: Plan your birthday party to last an hour to an hour-and-a-half. Plan the party for late morning or late afternoon when baby isn't tired.
2. Peritoneal guest only. Invite only important guest list to avoid over whelming your babe and keep costs down.
3. Get help. Hire a babysitter or asking a family member to help you manage your hosting duties with enjoying your kid's big day.
4. Kid's love balloons decor. Get foil balloon, helium balloon, hydrogen balloon, metallic balloon, imported balloon, to decor your party area.
5. Host a play place. Many of the kids in this age range like play area, so baby-proof a play zone filled with toys for your little guests. Set mats, tables, chairs around the zone for parents to relax and watch.
food and entertainment
6. Check your kitchen. Keep snacks in your birthday party simple, like graham crackers and chopped fruit for the kids, and other parts you like of adults.
7. Don't stress. You're can hire a D.J for birthday parties and can hosting pony rides. It is not matter to baby whether you throw the party just celebrate at home with your immediate family. As long as your kids with you and feels love all around, that's all that matters.