Birthday Planners in Delhi
Want to feel elated and excited making the ultimate and organized arrangements for your child's birthday party? If yes, then Birthday Planner, the legendary birthday planners in Delhi can help you celebrate the occasion easily and comfortably.
We are the most enthusiastic and dedicated birthday planners in Delhi who know very well what it takes to organize such a special occasion competently and smartly so that you and your guests can feel extraordinarily wonderful. This is exactly how we organize the birthday party of your children and make it exceptional in every promising fashion.
Everything is getting better as time passes and so are the birthday celebration styles. With this in mind, we the up-and-coming birthday planners in Delhi are dedicated to taking perfect care of everything that can ensure a fabulous birthday party for your kids and their buddies. We arrange a host of miscellaneous from our associated vendors to prove ourselves second-to-none in this modern world. Also, We have plenty of wonderful birthday celebration ideas that you can follow to ensure a fantastic birthday event either in your home or elsewhere.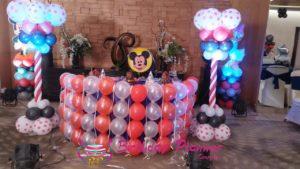 organize a remarkable party event on the birthday of your child
We at Birthday Planner, the notable birthday planners in Delhi, are armed with a team of well-qualified, inventive and dyed-in-the-wool professionals. Besides that, we will leave no stone unturned in doing everything to organize a remarkable party event on the birthday of your child. We profoundly focus on every step creating an in-depth list of all the party-related need to conclude the event ideally. We aim to furnish you with the best without bottle necking your regular busy schedule.
Furthermore, we at Birthday Planner, the distinguished birthday planners in Delhi, will also help you pick out the theme of the party. We also make well-organized plans by organizing it flawlessly without committing any mistakes. In addition, We will offer a number of venue options for you to choose the best based on your budget and needs. We are confident that your kids will truly appreciate enjoying the places where they can look forward to getting this fabulous event organized. This will ultimately ensure that not only the kids but also the adult invitees will also have complete fun. Being a reputed birthday party planner, we the reputable Birthday planners in Delhi keep all that you need for making this event memorable.
BIRTHDAY GIFT – THIS IS HOW YOU REMEMBER THE HEROINE
What to buy as a gift for someone who already has everything? Remembrance of the heroine is one of the most difficult things for a stranger on the birthday party of adults. Rarely does anyone want to get anything unnecessary for another, but an empty blanket would not want to come. The best gifts are experienced and self-made gifts that show the artist's manual artistic work. Here are some tips for adults:
GIFT CERTIFICATE
Often we know the heroines so much that we can guess what things he likes. A gift card for this favorite store or hobby shop will surely delight you. Indulge and restaurant gift cards are always a sure choice.
A SHARED EXPERIENCE
Often, everyday life takes us on our way, and we don't have to spend as much time with our loved ones as we would like. By giving a shared experience as a gift, you will be able to share the fun with a fun activity. Good experiences include a variety of adult adventure parks, a long-term dinner or cultural events with a common twist. Also get idea from birthday planners in Delhi.
DIY GIFT
Sometimes a gift made by yourself is the best gift. If you have musical gifts, you can come up with some famous sunglasses on a well-known song and arrange a surprise program number: your own birthday song! Additionally, If you choose a ballad, dim the lights and give all guests a sticker with which they can fiddle with the song. If your music isn't your thing, you can make a picture collage of your friendship or wool socks with the color of the sunscreen
Themes
There are endless ideas for the theme party! Popular themes include Game Night Party, Oscar Themed Party, Princess Theme Party, Frozen Theme Party, Doraemon Theme Party, Chhota Bheem Theme Party. In particular, birthday festivals have long been popular. The glittering colors of the light sticks are great for specific themes! Another good birth theme is the favorite color of the heroine or some theme related to this hobby. If the party is a passionate fitness trainer, we the well-famed Birthday planners in Delhi can arrange a fitness club party. If, on the other hand, this passion is art, dress everyone up as a famous artwork.
Drinking games

Drinking games are a fun way to raise your birthday mood. One of the most popular drinking games is the beer pong, which can be used for longer periods as the evening goes. Mugs are placed at both ends of the game table in the shape of a triangle. Each cup is packed with a couple of cents of beverage. In addition to which one Mug is filled with water used to wash the balls between the spins. The idea of ​​the game is to make your own balls by throwing them into the opponent's cup. At the end of the toss, empty the mugs with balls. Empty mugs are removed from the table, and the winner is the one who empties the table mugs first. Beer pong gets extra tension by darkening the room and installing a strobe light near the game table.
Alias
Another fun drink game is Alias, where you normally play word-playing games as individuals or in teams. However, in this version of the wrong answer, you have to take a whip from your drink. If you're on a creative site, you can also develop drinking games yourself. The drink game set consists of six different color shuttles, a rack and two dice. The set allows for multiple game variations, and only imagination is the limit to its use. You can also test the creativity of the guests and put them into the game during the evening – the best, of course, is rewarded!
Hire us now!

So what are you waiting for, hire us at Birthday Planner, your ultimate Birthday planners in Delhi. Also render your birthday with everything you have been looking for. We wish you have a wonderful Birthday Party.