We are the Dedicated Birthday Party Planner in Delhi
No matter whether you are a kid, a juvenile, an adult or a family holder, we at Birthday Planner are committed to making your birthday party joyful and lifetime memorable to the fullest. A well-decorated birthday party can easily grip the attention of your guests and will be etched in their minds lastingly. The spirit of festivity should be there. So if your next birthday is going to take place sooner or later, and you want to celebrate and enjoy it with lots of fun and memorable, then don't worry at all!  We at Birthday Planner, the up-and-coming birthday party planner in Delhi will plan your Birthday Party smoothly and memorably by keeping certain things into consideration.
Additionally, The same will help birthday parties to become a real smasher for a lifetime! We at Birthday World, arrange each and every item, which is essential for your birthday. Besides that, the items include decoration, cake, balloons, festoonery, ribbons, streamers and so on. At Birthday Planner, we are a leading Birthday Party Planner in Delhi and we also arrange party supplies. We will go hand in hand with you to plan your Kid's or an adult's birthday events like never before!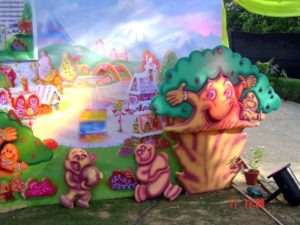 Event management for a birthday party is not a joke, as it does entail toil and great quality time. However, in the due course, it is worth the idea, as it helps parent-child bond formation as nothing does.
Before we make efforts to create a list for your child's birthday party supplies, we first urge you, the parents, to choose a favorite theme for the party. In fact, we have a number of enthralling birthday party themes that you will get the feeling of awe. So, choose from an infinite variety of exciting themes especially gender-related such as:
Boys Themes
Cupcake Wars Party and more.
Girls Themes

Adults Themes
We Excel in Birthday Party Decoration too
We the preeminent Birthday party planner in Delhi will do the following decorations for you:
1.Party lights: We largely recommend our clients to use tiny glowers with a view to providing fun lighting in the party venue. These are available in multiple forms, for example, glow pens, light sticks, light straws, and glowing cups can be used. Plus, the glistening fiber lights appear immeasurably attractive.
2. Birthday party balloons: We can arrange balloons according to the theme you or your child have chosen. For example, if the selected theme is Chhota Bheem one, we the experienced Birthday party planner in Delhi can provide you with chhota bheem balloons. You could even have animal printed balloons, Doreamon printed balloons, etc. Furthermore, you can also customize the balloons including your child's photos along with your personal message.
3.Centerpiece: The party theme can be best emphasized by placing a unique centerpiece. The centerpiece can be placed atop a table or it can be hung on the ceiling. We the most experienced Birthday party planner in Delhi will arrange a centerpiece that also suits your party theme to a nicety.
5.Confettis:  Although typically used in most lavish weddings, albeit you can have the item included in your birthday party as well.  We the customer-friendly Birthday party planner in Delhi recommend using floral or sports confetti for a kid's birthday. Also, We avoid using metallic confetti in a kid's party, as it is likely to hurt kids.
6. Personalised Birthday banners: We the experienced Birthday party planner in Delhi can design and personalize a specific banner for your birthday party. Do not fail to remember to put in your personal message articulating your love for your bundle of joy; after all, love entails expression.
Accessories
If you thought that was the end of the list, it is your misconception because we at Birthday party planner in Delhi also include birthday accessories.
Some of the accessories we include need are as follows:
1.Costumes that suit your theme.
2. Garlands, necklaces, bracelets and other jewelleries
3.Boas are colorful and would add a dash of style to your party.
4. Wrist streamers look festive enough for a party.
5. Pom poms and Batons will help cheer the birthday babe and also the players when the games begin.
6. Birthday party supplies would also include small tiaras, Hula skirts, hats and sashes.
We have decided on the theme and the decorations and the costumes, but the party planning is incomplete without food. The next birthday party supplies to be tackled are food.
Party Food
1.Birthday Bake: Cakes are must-haves for birthday bashes. If you could top your cake with your child's favourite cartoon character, it would thrill him or her to the fullest. Additionally, The cake topper must be in accordance with the party theme you chose. Furthermore, The cake baking and decor orders must be given very carefully. The ingredients used for the decor must be edible or at least food safe.
2.Drinks: Drinks are important in parties – light and bracing drinks feel great. However, the health of the children must not be compromised during drink selection. Additionally, Fresh fruit juices are a good bet. Lichee and strawberry juices mixed with honey and mint is a nice, colorful option. For a more creative effect, top up the drink with theme-supporting figures or characters.
3.Chocolates candy and treats: Sweets make a delightful palate. Have a lavish spread of candies and treats that your kid and his friends would love. Also, you can also have custom-made wrappers.
Hire us now!
Birthday party supplies list is endless but who cares, birthdays are here to celebrate life and its blessings. So, what are you waiting for, hire us at Birthday Planner, your ultimate Birthday party planner in Delhi and give your birthday the appearance it should have. Lastly, we wish you have a wonderful Birthday Party.