Birthday Party Organisers in Delhi
If you are planning to celebrate your birthday, wedding anniversary, anniversary, or looking to gather for any other happy occasion, then the Birthday Planner, the most reliable birthday party organisers in Delhi, knows exactly where to enjoy your celebration and how. Celebration in the company of loved ones entails efforts to decorate the hall, accommodate guests, draw up an entertainment program, a menu with treats, select music, and much more.
However for us, the fastest growing birthday party organisers in Delhi, it is a breeze, as we have been involved in the activities for more than ten years.There are several banquet halls of various sizes, decorated in the most diverse and sophisticated styles. Organizing your birthday party or your child's birthday party in these halls will delight you and your guests with a dynamic environment, delicious dishes, an original serving of treats, and, importantly, the fun that you will experience here.
What we are ready to provide our customers with:
Professionalism in organizing celebrations
Most scrumptious cuisine dishes
Excellent service and serving dishes
Individual approach
Great atmosphere
Comfort and comfort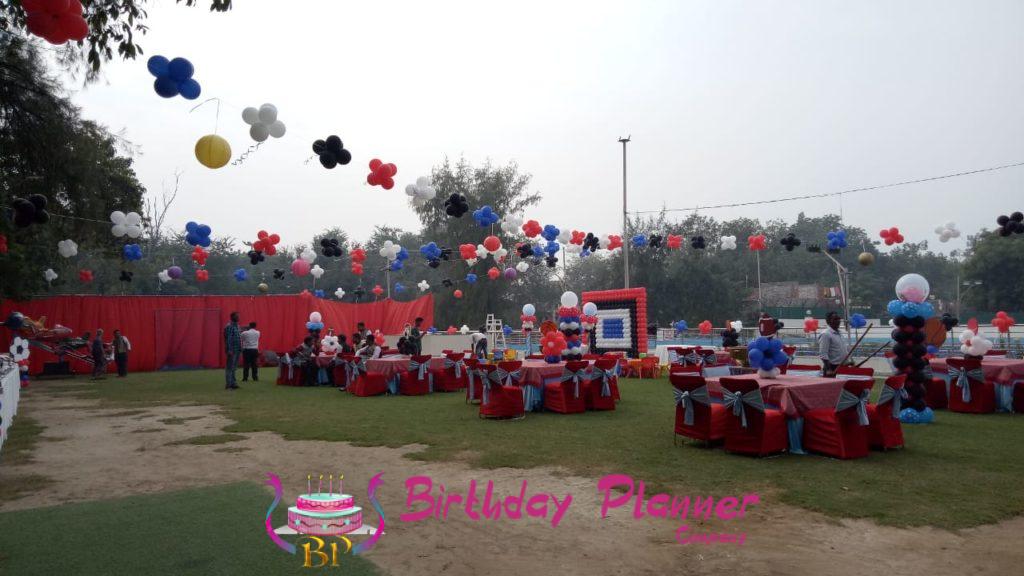 We can organize your birthday in a banquet hall, hotel or elsewhere
So, without a second consideration, feel free to entrust the responsibility of coordinating your potential birthday party to Birthday Planner, the true and experienced birthday party organisers in Delhi! Under our clear guidance, the organization of the celebration will be carried out on the basis of all your wishes. If you are planning to modestly celebrate the anniversary in the family circle, then a small cosy hall will suit.
In the event of a celebration "in a big way", we offer to rent a large hall: there is enough space to sit with taste and dance to pleasant music for several dozens of guests. At your request, the program can include guest entertainment and related services. We, the well-famed birthday party organisers in Delhi, can promptly rent a room in the most sophisticated banquet halls in Delhi. To ensure that all, all you will need to make a call to us on the mentioned contact numbers, book a room for the desired date and make an advance payment.
Themes and invitation cards
There is always an enthusiasm seen among the parents when it comes to celebrating the birthday of their child. They plan it a few months before to celebrate the first birthday of their kid in the most favorable way. It depends on the personal choice of parents as if what they select as a theme for the first birthday party of their baby girl or baby boy. The selection of theme mainly depends on the gender type.
If it is a baby boy, the theme would be different and for a girl, then the theme would be entirely different. Why not have a look at the wide-ranging themes ? We at Birthday Planner, the most celebrated birthday party organisers in Delhi, have selected for both boys and girls. After this phase, comes the turn of the invitation cards. We also have a huge variety of Baby First Birthday Invitation Cards. You can present these invitees to your near and dear invitees.
Other extra help we can provide
There are many impressive babies' first birthday poems available on the invitation cards. The wordings of Baby's Birthday Poem can either be short or long but they should be impressive. As it is important to create a list of people in advance, we at Birthday Party Organisers in Delhi will let you know to create the list of the exact number of guests expected in the birthday party of your baby. This way, we will help you to give a clear idea of how much to spend. So, when you select things, you will not run out of budget. Additionally, we will help you in resolving the time of the party.
We will choose the best birthday cake

The baby's Birthday Cake is the center of attraction for all the guests at the party. So, it should be really tasty and beautiful. For your child's Birthday Cakes, we, the excellent Birthday Party Organisers in Delhi, will order it in a very lovely design from the best confectionery shop we are associated with. In this way, you will get the item at the most affordable price. Also, if you feel the need for getting your child's best birthday party supplies such as decorations, favours. In addition, center pieces, balloons, plates, cups, table covers, Dessert Plate, banner, candles, cone hats, etc.
Wonderful ideas for baby's birthday
At Birthday Planner, we have various wonderful gift ideas about your baby's birthday. Being a distinguished birthday party organisers in Delhi, we will celebrate your baby's first birthday in the best way. Additionally, we take photographs to show him or her the way you celebrated the first birthday.
When planning a birthday party, we at birthday party organizers in Delhi generally organize a meeting with the parents or caretakers. We do this to elicit their worthy opinion to make a perfect plan. We are strictly following the plan according to the demand and recommendations of our clients. By choosing an appropriate theme according to the age and interest, you make your party big hit.
End notes

Birthday Planner is your one-stop and ultimate party planner for those parents who are looking to hire birthday party organizers. Birthday Planner make your child's birthday exceptional and etched in your mind. We play a stellar role in making the arrangement of birthday parties for varied age groups.
We leave no stone unturned in giving a virtuoso performance in fulfilling our duties. The happiness and satisfaction we see on the face of our clients and their children is a great and rewarding experience to us. We plan all the necessary arrangements to make the occasion more valuable for the attendees and hosts.
Also, if you are looking to get your birthday organized outdoors in a banquet hall, hotel or elsewhere, we encourage you to book for your kid's birthday party in advance to bypass any type of inconvenience you may experience. We are ready to book a venue near your workplace or living place. In any case, our aim is to deliver the best experience to our clients.