Are you planning to hire birthday party decorator for your birthday?
The birthday of your endearing child is undoubtedly something more than special for you the parents. It means that like every year, you want to celebrate his/her birthday with grandeur and perfection. Birthday Planner is the most favorable choice as your birthday party decorator in Delhi ncr. In simple words, you want to organize a celebration that can be etched to the minds of guests forever. Planning an unsullied party is doubtlessly a challenging and nerve-wracking task.
After all, there is so much to do; a person has to deal with a variety of things from choosing a theme to do all the arrangements. For example, doing the decoration, getting costumes/clothing for the birthday baby, catering, a fine-looking as well as a delectable cake, etc. In simple words, it really needs a lot of planning that a person needs to make a few days ago.
Alternatives you have to choose from for your birthday planning
Therefore, to ensure a fun-loaded and riveting birthday event, you have two alternatives to choose from. Based on your preferences, you can either organize the party on your own or hire seasoned professionals and leave the whole thing on them. If you choose to do everything on your own, then it will be a trying experience for you. Also, this will consume a lot of your time and efforts. Moreover, there will still be some flaws in your planning because you are not an expert in this niche.
That is why hiring party planners is really the most favorable choice for your needs. And if you are in or near Delhi, then the best Birthday Planner and Birthday Party Decorator is undoubtedly Birthday Planner! We will deal with everything ranging from decoration to the food, cake, and engaging activities. There will be no hassle, no strain, and everything will be complete of its kind.
Decorations and accessories for the party
Is it time for you to celebrate yourselves or celebrate someone in your close connection. With us, you will find decorations for birthday for both adults and children, but we also have decorations for birthdays. We the prestigious Birthday Party Decorator Delhi have everything you need for a successful event. Also, we will raise the mood of the party and decorate with lots of balloons, pompoms, and pennants. So, the entire dynamism in the room will look all the way complete. We have also chosen to categorize our products in the color theme. You can easily choose the color you want in the decorations for your event.
Also, cake decorations that reflect your personality can be found in our web-shop. Also lyrics on cake decorations such as happy birthday, it is my party, the best day ever and much more cake decorations can be found under the dessert table. If you want some products that we do not have, you can easily contact us and we will try to solve it. If you want some products that we do not have, you can easily contact us and we will try to solve it.
These are the complete decorations that make it all happen
We the best Birthday Party Decorator Delhi always do our best to make birthdays as special and exciting as possible with the decorations that we do. In short, we responsibly manage the stage set up, birthday board, welcome board, chalk board and designs. In addition, theme backdrop, photography and videography, photo booth, passage. Furthermore, entrance gate decoration, cake stand, cake table decoration, pre-birthday shoot, etc.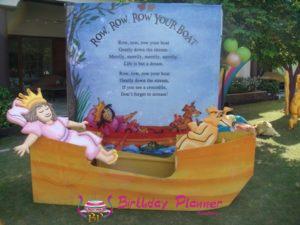 We also place mugs, plates, cutlery and napkins including confetti and return gifts without forgetting. We feel more than happy when you and your guests are surprised with a small gift towards the closure of the party. It does not always need to be so much, but it is enough to place a few small chocolates inside the box. Even hanging balloons and pennants in the room or the room makes the room feel fuller and sets the guests in very good vibes.
Create memories after the event
We the best Birthday Party Decorator Delhi recommend you to use a guest book. So, your guests can write their greetings or memories they have with you. They can save the book as a memory from the evening. We the second-to-none Birthday Party Decorator Delhi have different guest books that will suit all our customers. We have guest books for the baptism, baby shows, the party, the party and also the wedding. Photo booth is also a fun way to create memories.
After the party, you can develop the pictures and then make a photo book out of these to create a real memory together with your guests from the party. It creates fun pictures together and carries on a fun night you had together. The best thing about E-commerce is that you can sit down in peace and decide which decorations you want to use. We, the top-notch Birthday Party Decorator, will be happy to help you if you are wondering about something. We also provide you tips and advice on different products and their colors.
Decorate and enjoy your birthday party with us
So whether your special day or the special child of your child is around the corner, you can approach us at Birthday Planner, the well-known birthday party decorator. We will run the extra mile to make your birthday outstanding with the second-to-none services. While you hire us at Birthday Planner, we will offer you various available party packages to choose from based on your preferences and budget. Therefore, you can choose any of them by matching your preferences.
We are available 24*7 Saturdays, so you can freely contact us whenever it suits you. Being birthday party decorator Delhi, we will not only decorate the place but organize everything. Also, we entertain the kids by arranging various fun activities for them. Those who are sincerely looking for a great fun way to organize the birthday, we welcome them with open arms to work hand in hand with them.
So what, you can get in touch with us unreservedly at (+91) 9999990921 or harry4events@gmail.com.