Birthday Planner – Professional Birthday Organizer
There is no other day as special as a birthday of his/her son/daughter to any sane parent in this world. And to fete this gala day fun to the fullest, they make up their mind to celebrate and enjoy the occasion with their near and dear ones. To speak candidly, feting birthday parties in a spectacular way has been in great popularity and demand for the past few years. Considering the demand of the time and trend, most parents do their best to make their child's birthday as brilliant as possible. Not to mention, they present one or the other exquisite gifts to their child and make their birthday day more special for a lifetime. Give Birthday Planner a chance to become your birthday organizer in Delhi.
In the meantime, birthday is such a special occasion that brings our kith and kin as well as buddies near us. After all, in this fast-paced life, it is very hard generally to derive time out of the busy schedule and meet the near and dear ones. Therefore, it is clearly evident that celebrating a child's birthday is not only a festivity. It is even more than that.
Perfect planning is key of successful event
Incidentally, there are a lot of things about a birthday party, for example, planning, decorations, catering, gifts, entertainment, etc. In fact, all such things on putting together are instrumental in making an event a real smasher. It is very likely that that situation is quite chaotic when it comes to organizing all the arrangements on your own. After all, it entails a lot of hard work and consideration end to end to plan and execute an event.
In any case, if you make up your mind to arrange everything independently, it will typically result in the wastage of money because of the lack of knowledge of planning an event. That is why to be on the safe side, the idea to hire professionals for organizing events is worth considering. They have the knowledge, experience and everything that can contribute to making an unforgettable children birthday party. Birthday Organizer in Delhi will make your party talk of the town.
We are a perfect Birthday Organizer in Delhi

In the last few years, it is a quite evident thing that the demand for professional party planners is rising up exceptionally because people want everything done flawlessly. You can reap a variety of unprecedented benefits by hiring an expert party planner. That is because professionals have copious knowledge of each and everything that can make all the necessary arrangements orderly. For example, if you are in Delhi and are planning to throw a birthday bash for your little one or any grownup person, then you need not look further than Birthday Planner. You may ask why. In fact, Birthday Planner is a group of professional and experienced birthday organizer Delhi who are committed to eliciting you the best solutions and results.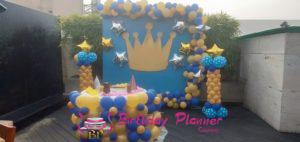 They are sure to fulfill all your wishes with regards to your child's birthday party. Under the banner of Birthday Party Planner, we will provide you with the best support to our clients. Additionally, we make their day memorable. We are a well-reputable birthday organizer Delhi Company which has marked a record of accomplishment. Besides that we put 100% effort in making the party all the way a jubilant event for everyone. We are a prominent Birthday organizer at Delhi where you can easily get and enjoy our services. Our services are readily affordable for all.
Interested in the theme
If you organize a party for a smaller group, you will be interested in the theme by telling each guest a different theme and identifying the invitations accordingly. Sometimes the hero of the day himself has not planned to celebrate the anniversary in any way. It is fun to surprise you with a festive party. This type of celebration often requires a little more planning but it is guaranteed to be memorable when successful. You can also take advantage of all the tips in this article for surprise parties!
Your home is certainly beautiful and homey, but does it really look like a party? We at Birthday Planner, the most reputable birthday organizer Delhi can help you in an easier way to get to when you are not sitting in the living room of a neighbor in the bright daylight.
Here are our world-class decorative tips:
A big pile of super-cheap light sticks
Different sizes of lighters are the basis for balancing. Of these, flowers or letters can be spotted, and best of all, the scenes also work outdoors. No more than the lights off and the sunglasses are shimmering to the guests or the ears of Mickey Mouse shine on the head – in the end, only imagination is the limit!
Glow balloons in the dark
The decoration is no longer easier with this. LED balls glow for up to 15 hours, so power is enough for the whole party. LED balloons are also suitable for outdoor use!
UV products
We will equip your room with UV light and give UV tape and other UV-active products to your guests. UV products are a sure-fire hit that will fascinate you even further!
Disco ball
A disco ball is perhaps a bit cliché, but it works elsewhere than in a primary disco.
Smokehouse
The machine is a great mood maker to organize the best home party of the year without the risk of bankruptcy.
Our Highlights
We at Birthday Planner, a well-thought-of Birthday organizer Delhi Company, are very meticulous about planning a birthday party including themes, decorations, catering, etc. Also, We take a variety of options into consideration to make the party fun and jubilant like never before. We are a seasoned birthday organizer Delhi Company, which is dedicated to planning all the things with full perfection and timeliness. Our clients' satisfaction is something extremely valuable to us and we feel obliged to serve them on this special day.
Hire us now!
We, the leading birthday organizer Delhi Company, also always aim to create an enjoyable and fun-filled environment. Therefore, your guests would not feel bored. So what are you waiting for, hire us at Birthday Planner, your ultimate Birthday organizer Delhi Company. Render your birthday with everything you have been looking for. We wish you have a wonderful Birthday Party.