We let you off the hook from all birthday planning and decoration tasks end to end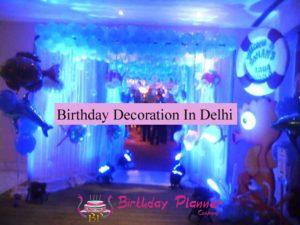 Compared to organizing a huge event for adults, planning a birthday party for kids is more challenging. You need to do more than just making sure that the celebrant and the guests have fun. You also have to ensure that all the children will be safe. Whenever kids, especially toddlers, come together and play, everyone knows that some unfortunate situations may arise. For instance, someone who's running around will trip over and scrape his or her knees. If you are hosting an event for kids, you need to get ready for any unpleasant incident, aside from seeing to it that they will enjoy the party. You need to take the necessary steps to avoid accidents or similar cases. That is why, Birthday Planner, the leading Birthday Decorators in Delhi, will let you off the hook from all these concerns once and for all.
Will birthday decorators plan and decorate birthday parties as per your needs?


Yes. We at Birthday Planner, have been planning and decorating birthday parties for more than ten years. So with that said, we possess complete know-how and rich experience in the niche.  Deciding on the theme of this specific birthday party for kids is one of the first things that we do. The ideal way to do this is to think about what the celebrant likes. The theme, we believe, can be patterned after the celebrant's favorite color, sport, cartoon character, book, or activity. That means that you can have anything for the theme – pink, baseball, Kung Fu Panda, Curious George, or tea party. Then we, the dedicated birthday decorators in Delhi, work out the invitations, decorations, food, games. In addition, the cake, among other things, after you have decided on the theme.
Do you want to get a birthday party organized at sea beach?
Particularly, in cases, when you have got the budget for it, the venue for the party can depend on the theme. If swimming is a favorite of the celebrant, we, the smartest birthday decorators in Delhi, can organize the birthday on the beach or at the poolside. However, your residence as the venue of the party is always a fine idea too.
We assume responsibility for bringing party supplies
Next, to ensure bringing the part of the supplies, we can bring it from our associated vendors. On the other hand, if you have got a celebrant who is already over 3 years old, he or she can even be asked to help out in some of the party supplies' preparations. It will not only give him or her some fun, but will also boost his or her creativity and confidence, knowing that he or she has helped prepare the party.
We can gladly send invitations to your guests
Also, if sending invitations to your guests seems a hassle to you, then we, the leading birthday decorators in Delhi, can cater to the need for you. We also guess that if you only have a limited number of guests. Also, it is worth considering sending them invitations handmade. We will make cutouts and write the details by hand to give them a personal touch.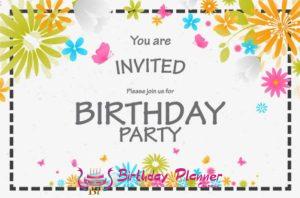 Another option is to design them using the ready templates in the computer and print them out. You or we can ask the celebrant to choose which type he or she wants if you want to simply buy the invitations from the store. Whether DIY or store-bought, invites should never leave out important details for this birthday party for kids. A reminder to bring a swimsuit and a towel can be added. This is must thing if you are interested in hosting a swimming party. If you think it's necessary for parents to accompany their children to the party, you can also say so in the invitation.
We can also arrange birthday party entertainers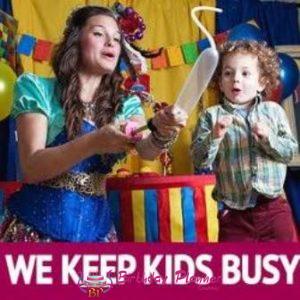 Recently, entertainers of different kinds have become popular for children's parties. Your choices for entertainment to arrange clowns and magicians are worthy one. This is an important matter that you really should look into. If you're set on getting a particular party entertainer, it would be best that you see his or her actual performance. We, the perfect birthday decorators in Delhi, will try our best to arrange the best entertainers (either clowns or magicians or both) for the party. We are sure that your kids will find clowns and magicians entertaining. However, these days, party entertainers for kids don't come cheap, make sure you have set budget specifically for it.
We can arrange finger foods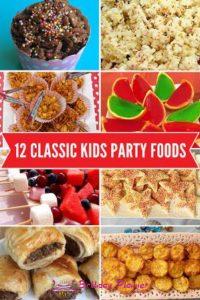 In a birthday party for kids, we believe that food does not have to be lavish or expensive. Sometimes, you only need cake and ice cream and the event will already be a big hit for everyone. However, there are times that it is also wise to provide a spread of finger foods like mini pizzas, chicken fingers, or small sandwiches. This would also be excellent if you get some parents invited. We, the creative birthday decorators in Delhi, always make the effort to ask the parents of your young guests if their kids are allergic to any kind of food. If you want, you can change the items that can trigger allergies for some kids. However, you may opt for just arranging for a different dish for these guests.
To help you prepare and host the party, we, the proficient birthday decorators in Delhi, will lend a helping hand to you.
Get world-class birthday decoration
At Birthday Planner, we have won spurs as the well-recognized birthday decorators in Delhi ncr for decorating birthday parties ultimately. Through our brilliant decoration, we feel confident to catch the eye of each and every party attendant. They are sure to sing the praises of the birthday parties organized and decorated by us. After all, we have the experience and know-how of decorating birthday parties in an ideal fashion. Therefore, we can plan both standard and theme-based birthday parties for kids, teens, and adults. So whether you want to get your party decorated using balloons, ribbons or streamer decoration or entrance gate decoration, cake stand, cake table decoration, pre-birthday shoot, etc. we shine at it. It all depends on your discretion and personal choice. So whatever preferences you have for the birthday decorations you want, we are confident to exceed your expectations infallibly.