Leading Birthday Organisers In Delhi NCR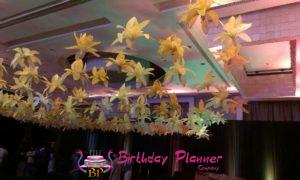 We, at Birthday Planner, are the best birthday organizers in Delhi. Also, we are a vast team consisting of various professionals such as designers, planners and artists. Each professional suggests a number of ideas to our clients regarding birthday parties. Additionally, no matter who the birthday person is what his/her age is. The services are very instrumental for our clients in coordinating and carrying out birthday parties on a sumptuous scale.
Being a best birthday organizers company in Delhi, we ensure to discuss a wide variety of ideas with our clients. Therefore, we organize the party considering their needs and preferences to a nicety. We ensure that every single detail is taken care of very well. We have a vast experience in and comprehensive expertise of organizing a birthday event very well.
Besides that, we help you to deliver the best services within your means. The critical factor of the budget does not subdue our inventiveness and passion. Also, it never came to deliver an out of the world party experience to our clients. Our party organizers give a tangible shape to every figment of the imaginations of the clients.
What we include in the birthday parties as birthday organisers?
The parties we at Birthday Planner, the best Birthday organizers Company in Delhi, coordinate are out of this world and leave a long-lasting impression on every party attendant. Our team works together hand in hand with the clients regarding the design and decoration to create an ambiance that suits the theme to a T. We also use specific types of furnishings, curtains, brilliant lights, colors including other decoration elements.
Every decorative item that we, the birthday organizers Delhi, use is in sync with the theme and decoration the client needs and desires. The use of brilliant lighting with the tactical placement of chairs and tables give sumptuousness and the ultra-luxury experience of the vibes for a party. The installation of huge curtains and hanging chandeliers enables our guests to move contentedly even in a sumptuous party.
Do the birthday planner offer Return gifts for birthday party?
Yes, off course. We, the fast thriving birthday organizers, guess that no party is complete unless there are return gifts. Additionally, we can help you plan what you want your little party goers to take home with them. We guess a gift bag with a number of small goodies rather than one big gift will be better. It will not only be easy on your budget but will also excite the little ones a lot more.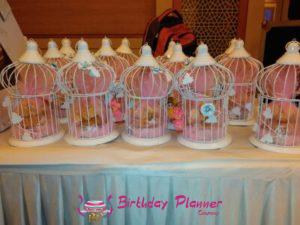 On the other hand, you can also make personalized gifts like coffee mugs and T-shirts with your daughter's picture on them. This gift will put your party in the list of unforgettable ones; literally.
"Planning a birthday bash but unable to decide on return gifts. Every time, in general, we, the fast thriving birthday organizers, look for unique return gifts for kids attending the party. Apart from being unique, parents also need to consider the following:
1) Budget
2) Usefulness
3) Creativeness
4) Personalisation
What are some return gifts options that birthday party planners provide us for birthday party?
Keeping all this in mind, suggesting you few return gifts which will be remembered and used for a long period.
1) Personalised Denim Pouch –
A pencil pouch is a must for kids to keep their stationery or colors and we make it unique by having their name on it with their favorite cartoon character. This is something kids are surely going to use and take it to school.
2) Post Box Piggy
An old-style piggy bank in the shape of Post box with superb finish and quality. It is a dual-purpose bank to save coins and photo frame which will not only make kids happy but parents also love this. After all, it enables children to save money.
3) Personalized Bag –
A personalized picnic or activity bag for kids in denim or cotton with child's name and images like car or doll. Adding name and colors to the bag will make it funky and children like to carry the bag with their own name.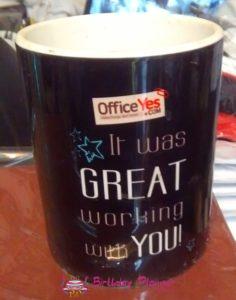 4) Gifts basket –
A goodies basket which has all funky stuff in it. It will be full of creative sharpeners, erasers, pens, glasses, hairbands, etc. Children cherish each and every item of this basket for its uniqueness and cute usable things. Birthday Organizers in Delhi gives you a lot of options.
5) Tissue holder –
A cute tissue holder to keep in the room or carry it along. It is not only very useful but also a colorful toy for kids to play. No doubt that it is going to be a unique gift which will be loved by mom n baby both.
6) 3D puzzle –
There are different types of puzzle to solve which can be converted to unique handmade art-piece by the child. It comes in various shapes and formations. So, once formed, it will be a surprise for all."
Hope you like the ideas. Do share with us your experience and other useful gifts according to you.
What stands us out from other birthday party organizers?
As a business policy, we make sure that every birthday party should be a sign of the singular personality of the host. What stands out as the best birthday organizers in Delhi because of our comprehensive understanding of the birthday party. Additionally, we are well aware that this event puts all near and dear ones together. It is partly a family get-together, partly bash and partly event to set the beginning of a new year in the life of the birthday boy/girl.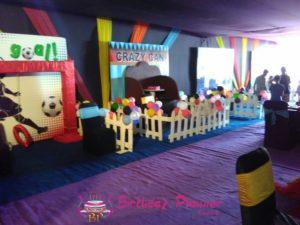 Our party organizers take all these factors into account during the designing and preparation of the event. For kids' birthday parties, we create singular sets with overstated cartoon mascots, toys, variegated balloons, etc. Also, we design exclusive stages including favorite cartoon serials or figures of the kids. The overall decoration of the party is a sign of imagination of the kid celebrating his or her birthday. Besides that, birthday organizers also organize amazing and riveting games. Also, it includes other activities for kids to maximize their joy and celebration.
Why you should choose us?
We the preeminent birthday organizers in Delhi elicits a number of world-class solutions for your birthday parties. In any case, whether you have certain queries, uncertainties, or other issues about our services and our products, you can contact us freely at (+91) 9999990921 or harry4events@gmail.com.