Jungle theme party Decoration ideas: Birthday Planner
The jungle theme party is becoming very popular. The most preferred theme party for any birthday celebration is theme party. Kids are very fond of this theme characters like lion, elephant, giraffe, monkey, tiger, peacock and many more. Kids enjoys a lot after watching jungle and jungle characters.
We at birthday planners have vast experience in celebrating jungle themed party. We have unique ideas and supplies for the jungle theme. Clients are demanding this theme in 50 percent out of 100 percent for first birthday theme party.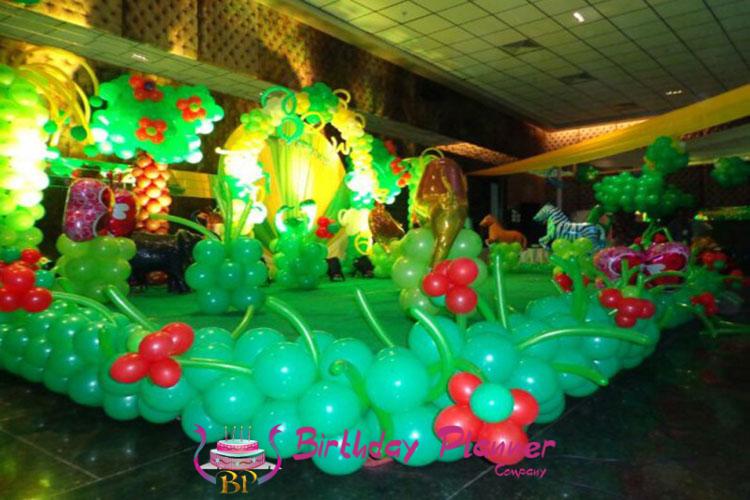 Theme Decoration
Make themed paper props, and tie them up with fishing wire. Decoration with green leaves made up of green chart paper, and artificial paper flowers.
We can use bamboo sticks to create an area for decent creativity.
We can use thermocol/digital cutouts of animals, or animal footprints, to decorate the venue. Use elephant, cheetah, zebra, monkey, and rhino cutouts.
it will be great if any jungle themed air walker character will present in the venue to entertain guests.
Frame a flex backdrop behind the cake table with kids' pictures.
Use themed printed table cloth for tables for guests sitting area.
We can also make balloon sculptures in the shape of giraffe and elephant.
Foil gas balloons with helium gas balloons will be a great mixture in theme.
Theme Personalization
We can customize our party with personalized birthday invites, birthday banners. Use banners, thank you card, to add a unique jungle touch.
We can download a jungle themed pic and print tent cards, water bottle printing.
For each guests, we can make a jungle safari pass with their name.
Foods
Jungle theme decorated cake for the party is surely the point of attraction in the party.
Ashoka tree leaves & banana tree leaves can be used to display food counters.
We can put jungle themes jelly beans & candies to add a flavor.
Theme Games and Activities
When comes it with the name for games & activities, the Jungle theme is very much interesting to create games.
Feed the character game themed for the theme.
Pin the donkey is also another game related to this theme.
Matka fod games can also be included.
Birthday Planner Themes
Candyland Theme Party
Care Bear Theme Party
Chhota Bheem Theme Party
Disney Theme Party
Doraemon Theme Party
Princess Theme Party